A season for the books
The varsity boys season came to an end in their playoff loss to Herndon. The score was 46-59 in favor of Herndon, bringing the Highlanders season to an end.
Seniors were emotional after the game, as it was the last of their high school careers.
"I had a fun time playing basketball, especially with the other seniors. I'm sad but happy at the same time, it's the start of a new chapter," senior varsity player Evan Bremser said.
The season started off rough, but they managed to get the gist of things towards the end.
"In terms of talent, we were not the sharpest, so the first two weeks of practices were tough. We had to run for practically the whole practice, our mentality was that, even though we couldn't be the most talented group, we could be the hardest working group," junior basketball player Aaron Bremser said.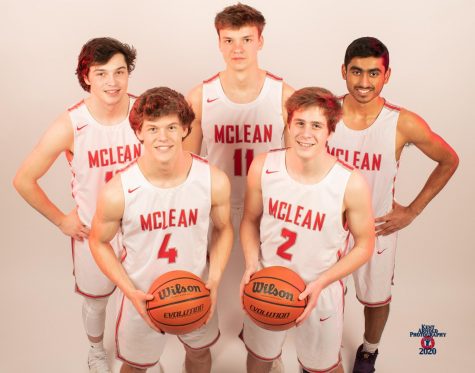 The boys started out with a couple of wins, but fell victim to a losing streak. After the streak they managed to snag a couple more wins. Overall they ended up finishing 7-16.
"It's not the wins and losses that made the season enjoyable, it was the memories and bonds I made with this group of guys," senior varsity player Mason Davis said.
None of the boys are playing basketball at the next level, but they will have their senior season's in their minds forever.
"It's hard to see the seniors go. When I first made the team, there was some pressure, but the seniors made me feel comfortable on the team. It's hard to think that they will be gone next season," freshmen varsity player Jakob Luu said. Not only did each senior have an enjoyable time, one of them felt as if they had something to prove.
"I missed my junior year as I was injured. I felt like I had something to prove my senior season. I worked hard day in and day out and it made my senior season one for the books," senior varsity player Bhuvanesh Rajagopal.
The five seniors, Randy Shepard, Evan Bremser, Bhuvanesh Rajagopal, Roy Jonkers, and Mason davis will forever have McLean basketball associated with them, and as for the rest, the seniors will always be in their hearts.
"I hate to see them go, but the team is going to keep working so we can come back stronger next year," Luu said.
To wrap up the seniors mark on the program, varsity head coach Mike O'Brian had a couple words regarding their impact.
"The five seniors brought a culture of hard work to the program. Everyone thinks they work hard but they were the example that everyone else had to follow. I can only hope the younger players recognized it and follow their lead," O'Brian said.