PDEW
Keep your affairs out of the hallways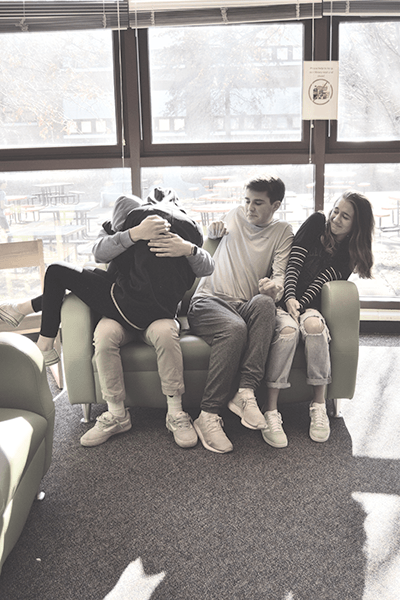 Walking down the halls, nothing brightens our day more than witnessing public displays of affection, commonly known as PDA. No matter how awful a day is, everyone agrees witnessing teenagers caressing each other's fully dressed bodies during school hours surely improves it. Nothing demonstrates the integrity of a young adult like putting their one-month relationship's feelings out there for the world to see.
From the staff here at The Highlander, we just wanted to give a huge shoutout to all the amazing students that put their affection on display in the hallways. You inspire us, and we don't know how we would get through a day without seeing just how strong the grip of young love truly is.
We totally understand your need to hold hands with your boyfriend or girlfriend for five more seconds even though you know you can see them when the school day ends. Without a doubt, school is the perfect place to demonstrate your deep connection with another human.
All jokes and sarcasm aside, y'all are bold. What gives you the right to force this perversion upon our eyes?
But then again, who would have the audacity to hide their need to be touched from the entire student body? It's not like any of us are thinking, "God only knows what's going on behind closed doors." Right?
Don't just take our word for it, though. We students aren't the only explorers in this rampant breeding ground that is high school.
We know our teachers absolutely love passing the entwined bosoms that scatter the halls. After all, it's every adult's dream to work in the stables and continually witness a woman nuzzling her horse after a long morning's ride. Instead of going out and adopting a neglected pet or working at a zoo, your teachers chose to work here at McLean High School, so please give them a good show!
You're better than animals in the sense that you not only fondle and stroke each other's manes, but you choose the most public habitats to occupy. And for that, we are so grateful.
Standing beneath the air conditioning unit of a trailer to share that final warm embrace with your significant other seems truly magical. In fact, it's just one of the many romantic locales available for you on the campus of one of the most crowded schools in the DMV.
If it's too cold to procreate outside, the school has graciously gifted you dozens of couches to choose from. Kick off any of the kids who are just trying to sit on those couches to catch a rest during the day—boring!
Seriously, we're proud of you for maintaining a high school relationship, but you need to keep in mind that you're sharing this building and grounds with thousands of other students.
Happy Valentine's Day! Now knock it off.