McLean fights for first
Girls varsity basketball loses 50-47 to South Lakes after hoping to secure first place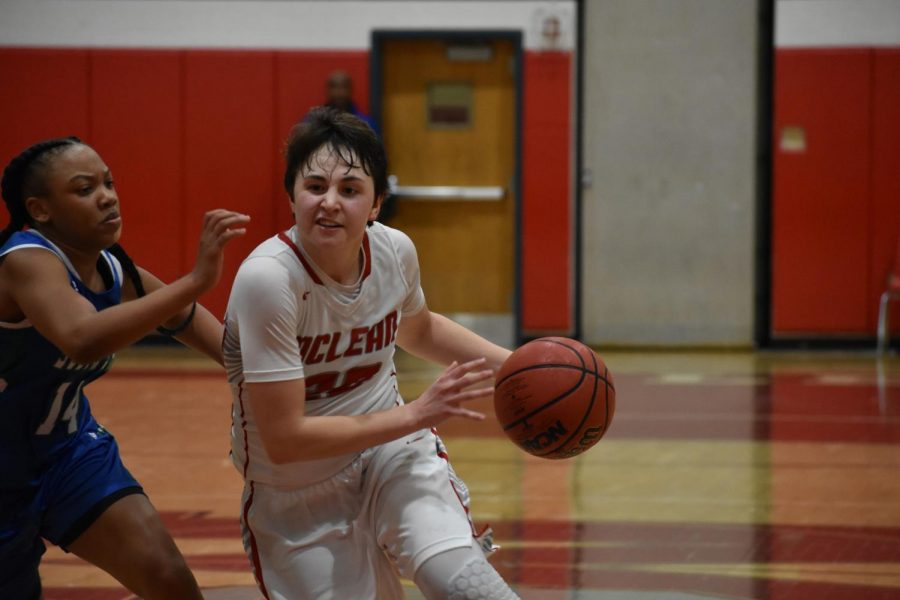 It is hard to believe that there could be a rivalry more important to a McLean sports team than Langley, but to the girls varsity basketball team, Tuesday's game against South Lakes meant more.
"Most of us consider South Lakes more of a physical rival than Langley," senior guard Elly Glenn said. "We came close [to winning] last time we played them so we wanted revenge."
This girls varsity basketball team was ranked second on Tuesday, the day they opposed South Lakes, ranked first at the time. McLean remains in second place after the loss of 50-47.
"[The game] was important for seeing how we match up with them," Glenn said. "And, the win would obviously help improve our record."
The team knows how South Lakes plays and made sure to focus on their strengths and weaknesses during practice.
"We have been working on defense a lot in practice," Glenn said. "We wanted to come out loud and aggressive each quarter."
Players also prepared mentally for the game–as best they could.
"We focused on just keeping energy levels high and playing our own game," Glenn said. "South Lakes is loud, they play physical and they get in your head, so our focus was on just our team and doing what we could to stop them."
As a result of the tension and anticipation before the game, students also game out to support the team. Senior Jenna Magleby was one of these students, and she arrived decked out in a red outfit and carrying "fathead" posters of many players.
"I have some friends on the team that I want to support," Magleby said. "I like watching basketball and my friends play."
The excitement was especially high at halftime, when McLean and South Lakes were within ten points of each other. McLean had a huge burst of energy in the third quarter, and most players increased their point tallies by quite a few points.
"We played really well. It was one of our better all-around games of the year, despite the fact that we didn't come out on top."

Senior Guard Elly Glenn (#4)
"We played really well. It was one of our better all-around games of the year, despite the fact that we didn't come out on top," Glenn said. "The first half we held them to only 18 points, and we were moving well on offense and getting good looks."
The onlookers felt the excitement throughout the stands.
"My favorite part was when Elly Glenn scored two three pointers," Magleby said.
Unfortunately, McLean wasn't able to keep up with the fire that South Lakes brought in the last quarter, and the game ended 50-47 in favor of South Lakes. Glenn recognized what went wrong in those last minutes.
"We let the outside noise and the pressure eat at us when they went on a run in the fourth quarter," Glenn said. "There is room for improvement on our communication and stopping their momentum, when they get any, and moving on to the next play after a mistake."
The team learned about their playing and are prepared to use those lessons to prepare for even more important, upcoming games. Glenn believes the outlook for the end of the season is good.
"Coming off the Langley win on Friday, we all felt confident about our team chemistry and heading into the next few weeks of playoffs," Glenn said.