Girls basketball dominates Herndon
Strong scoring night lifts Highlanders over Hornets
On Friday, the Highlander girls continued their strong season with a comfortable 58-44 against Herndon. Led by juniors Kendall Jones and Sophie Smith, and senior Elizabeth Dufrane, the Highlanders were able to maintain a lead over the Hornets throughout the entirety of the game, maintaining their perfect record at home this season.
"I feel the team played very well overall, we started out very strong and continued that energy throughout the game," junior Caroline Wagner said.
The win was the second game of a five-game homestand for the Highlanders, who have two consecutive games. The team's recent success is helping them build momentum going into the remainder of the season, including this Friday's highly anticipated rematch against Langley.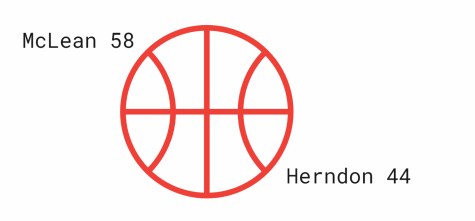 "This win gives us a lot of confidence for the Langley game because we know how talented of a team we are and how capable we are of winning," Wagner said.
With the District tournament approaching, the team is starting to prepare for the postseason.
"We are pushing ourselves even harder during practice and in the regular season games to ensure a well-ranked spot and go as far as we can," Smith said.
With a district win last night over Yorktown, the team now has a record of 12-6, and the girls will look to extend their win streak Friday against Langley at 5:45.
"As a team, including coaches, I think everyone is very satisfied with how this season is going," Smith said. "Even though we have those tough losses we come back and work even harder during practice and feel accomplished still being undefeated at home."
Lady Highlanders roll past Herndon! pic.twitter.com/kSoIm1vlMV

— McLeanathletics (@McLeanathletics) January 25, 2020