Asian American Association club celebrates Chinese New Year
Students learn more and connect to the Chinese culture
 Today marks the official 2020 Chinese New Year or also known as the Lunar New Year. It is an ancient tradition celebrated with great pomp and show in mainland China and by the Chinese diaspora around the world. In anticipation of the event, McLean's Asian American Association (AAA) club hosted an exciting after school program last Thursday to celebrate it.
"Our club's purpose is to introduce Asian culture to more people. Chinese New Year is a really important event in China so we decided to introduce [this event] to everyone," said junior Emily Chen, Co-president of McLean's AAA club.  
"
I think a lot of people, especially with the rise of social media, focus on what they don't have and the lifestyle they're not able to live, but at the same time we're all still very blessed with what have."
— Summer Hensley
The event included activities such as writing hopeful messages in calligraphy, paper cutting designs, eating Chinese cuisine and listening to traditional and modern Asian music. On this occasion, a common tradition is to write hopeful messages on red paper and place them on doors which is considered to keep evil away. 
"We wrote some traditional [phrases on red paper] and the most common phrase means 'I wish everything goes well this year and hope everything goes how you want it'," Chen said. 
Such activities provide an opportunity to those Asian students, particularly those from Chinese descent, who are born and raised in the U.S. to get more exposure to their traditional heritage and connect with their cultural roots.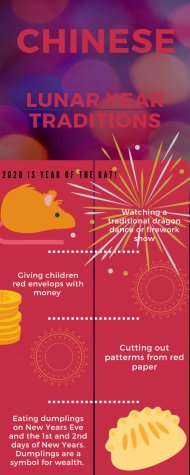 "A lot of times [cultural identity] can be washed out because [students] are not in China," said senior Summer Hensley, Co-activities Coordinator of AAA. "So I feel it really gives [students] a chance to get closer to their culture. Closer to where they're from and not just being American."
Celebrating the Chinese New Year brings families and friends together to be grateful for the present and look forward to a hopeful future.
"[Chinese New Year] is just the time to really celebrate what you have and be optimistic in general about [the future]," Hensley said. "I think a lot of people, especially with the rise of social media, focus on what they don't have and the lifestyle they're not able to live, but at the same time we're all still very blessed with what have."