McLean girls basketball celebrates their seniors
McLean defeats Washington Liberty on senior night
The McLean girls varsity team crushed Washington Liberty in a definitive victory on Tuesday and participated in their annual senior night festivities to honor the seniors, Maggie Campion, Summer Hensley, Elizabeth Dufrane, Tess Ginsberg and Elly Glenn. 
The morning started with all the seniors receiving boas, T-shirts and crowns, which they were allowed to wear during the day and also wore that night to warm up. In addition, they write bios and the younger members set up their own posters and other fun things for the seniors.
"I love all the little traditions. I think its bittersweet to be honored by teammates you love but are also leaving soon," Glenn said.
The night began with the freshman and junior varsity teams playing their games, then soon after the celebration began each senior walked out with their family members where they were joyfully greeted by bouquets of flowers from their teammates, a short bio about who they are and their time on the team, and a congratulations from their coaches and several administrators. 
Several of the team members became emotional during this process while having to say goodbye to their teammates. 
"This year our team is very talented and I'm going to be so sad to see them leave because they all play a big roll on our team," sophomore Mia Fitzgerald said.
This year's seniors were a strong group of athletes, and Dufrane was given the title of McLean's all-time leading scorer.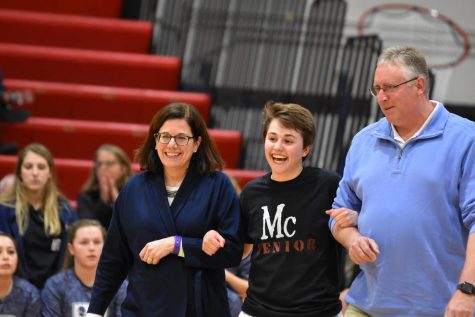 "[Next year] it's gonna change a lot, but hopefully we can adapt to it because Elizabeth is our main scorer for us right now, so with her gone we have to get those points next year," Fitzgerald said. 
Although a large group of seniors is leaving this year, the underclassmen will be able to take over and continue the girls basketball team's winning record.
"It will be a little bit tough in the beginning to work on the new team chemistry especially missing one of the best players, Elizabeth Dufrane, but I have full faith in the abilities of the underclassmen to work hard to fill the shoes of this year's seniors," Glenn said.
Once the seniors had all been honored, the game began with all the seniors playing. It was an easy win by McLean, and they were able to take the lead immediately and keep it. They ended the game with a score of 64-50.
"I think we played really well. We got the lead up so we could get in all the seniors to play most of the game, and they all scored," Fitzgerald said.
Although the seniors' time on the team is coming to an end, they have high hopes for the future team members.
"I am so sad to graduate," Glenn said. "I have loved high school so much. I have had my fair share of really tough moments or tough semesters but ultimately the people I've met, the experiences I've had and the things I've learned in the past four years make those tough moments all worth it. I feel like i tried my hardest to make the most of the last four years so I'm sad to see it go. It really does go by in a blink."
Leave a Comment
Your donation supports the McLean High School's independent, award-winning news publication.