Fine Line garners praise
Harry Styles releases album after two year hiatus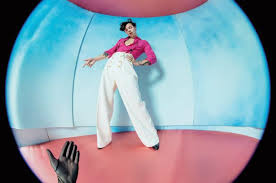 After teasing his album by releasing singles like Adore You and Lights Up, Harry Styles came back from his two year hiatus by releasing his second solo album Fine Line.
The album has now been streamed over 300 million times on Spotify and is number one for the second week on billboard top 100.
Styles' album consists of songs distinct from his first self-titled album, including my personal favorites like Falling, which brings me back to his boy band days with the famously known One Direction, and Sunflower, a catchy tune perfect for the beach.
Fans were excited to see what was in stock after much anticipation and he did not disappoint.
"It was obvious that he felt more comfortable being open and vulnerable when making Fine Line which is what drew me to his music" junior Serena Wang said.
Styles' overall message is to treat people with kindness, so much so, that he named one of his songs the same thing.
This song is unique from all the others because of the heavenly gospel choir providing background vocals for Styles. 
Many of his songs pull from his heartbreak with French model Camille Rowe during his hiatus. Until his album was released, fans didn't truly understand how painful his break up was and Styles does a phenomenal job relating with the public when recounting his pain. 
While there were relatable aspects to his songs about Camille Rowe, lyrics such as "miss your accent" and the mentioning of the "Beachwood café" are specific details that help us better understand what he went through.
Styles will start his Love on Tour late June in Philadelphia at the Wells Fargo Center.