TheatreMcLean begins process for VHSL
McLean 's Theatre 3/4 class holds auditions for One Act Play competition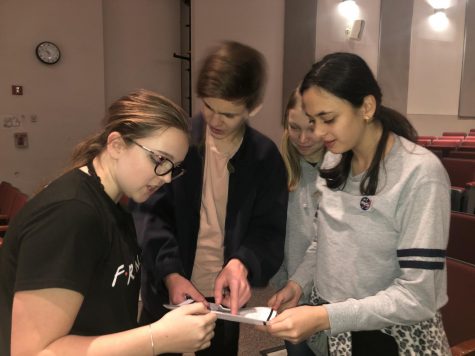 TheatreMcLean has been holding auditions for their One Act Play, Variations on a Theme, since Wednesday, Dec. 4,  with a cast list to be announced Friday, Dec. 6. They plan to enter their play into the Virginia High School League's One Act Competition. 
"I like how close the cast gets to each other [through VHSL]," junior Will Chapman said. "It feels more like hanging out with friends more than the other shows."
The competition involves schools across Virginia putting on a short, one act play, and competing with other high schools for a panel of judges. On Jan. 25, McLean will perform at Marshall High School on a regional level, and should they place first or second, advance to the super-regional level. McLean hopes to make it to states this year. 
"VHSL is an opportunity for students to compete with their art, and try showing their spirits in a manner different than a simple show," senior Rebecca Blacksten said. 
Variations on a Theme is a short play written by Ed Monk, which shows a young man waiting for his ex-girlfriend at a train station, hoping to catch her before she leaves for college and apologize for a fight. As he waits, he imagines all the possible variations of how his conversation could go.
"I love VHSL because it provides a little bit of bite to performance," Blacksten said. "A show that's just a show is so much fun, but there is an element of competitive spirit that when paired with theatre is just so electric and propels the performance forward."
Variations on a Theme requires at least a cast of 12 boys and 12 girls, plus an additional ensemble, so the cast has had to extend beyond the typical group of Theatre 3/4 students. 
"I tried out because I have done tech for three years and wanted to get the experience of acting for fun, just to see what it is like," said Hershel Carrillo-Klein, tech director for this year's fall play, You Can't Take It With You. "It's weird as a tech person, because I don't know really how to act, so I try and combine what I've learned from watching the kids act these past three years."
McLean tradition holds that only upperclassmen are participate in VHSL, so this year's seniors are eager to complete their trajectory.
"We started out with a piece called AP Theatre, and it was a lot of fun! We didn't think we would go far, but we placed first place two times in a row, then second at states," Blacksten said. "Then we geared up with Cut, a very funny and absurd piece, but we didn't make it past regionals."
"[VHSL] affects the theatre community because it allows us to add some quantifiable evidence that we are talented: placing higher means a better show with better people," Blacksten said.