McLean gymnastics team tumbles into fourth place
McLean's gymnastics team competes at their first meet
McLean High School's gymnastics team competed in their first competition of the season on Monday, Dec. 2. 
It was a home meet against South Lakes, Wakefield, Hayfield, and Washington-Liberty, in several events. McLean placed fourth at the meet and Washington-Liberty places first.
The events at the meet included the balance beam, uneven bars, floor exercise, and vault.
They have been preparing for several weeks in order to be ready for this competition. 
"[We] go to all the practices we have and just give it our all when we're at practice," said senior Arianna Safire, a gymnastics team member.
They practice three days a week during the sea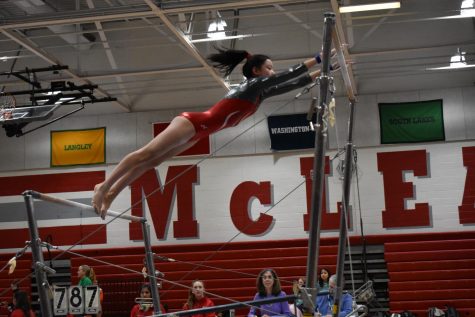 son, but most of the girls have also been avid gymnasts for many years. 
  "[My floor routine] is the same routine I competed as a junior and a sophomore, so I feel pretty confident for today," Safire said. "In general, I think our team is pretty prepared."
Although McLean lost, team captain Tara Stewart stood out and placed third on the balance beam.
The team in the past has done very well and got a state title three years ago, so the team is hopeful for the rest of the season.
"We have a lot of good freshmen who joined this year, so I am really excited about that, and I am excited to finish out a strong senior year," Safire said.
McLean has several more events in the future including their senior night on Jan. 18.
"I have high hopes for the team getting better [in the future]. It's just the first competition, so everyone's still getting accustomed to things," Stewart said.