Popeyes is popping off
The Popeyes chicken sandwich makes a comeback and is as good as ever
The explosively popular Popeyes chicken sandwich has made its return as of November 3rd. Although the hype over this sandwich seemingly died down after completely selling out of stock nation-wise, the sandwich still remains as glorified and popular as ever. People were excited and ready to cop their first tastes of the revolutionary sandwich since its first sell out; lines were out the door, drive thrus completely backed up, and the wait intensely excruciating. We waited nearly two hours to obtain this sandwich and it's superior quality made all the efforts worth it.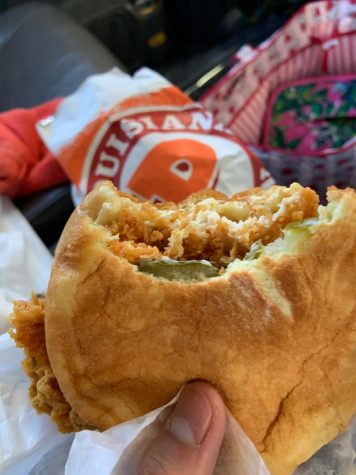 This four dollar sandwich comes with a large cut of fried chicken breast, two pickle slices, mayo, all laid on a soft brioche bun. The chicken was a perfect balance of moist and tender meat with a delicate and expertly seasoned outer crispy breading. The pickles cut through the oil and fattiness of the chicken, acting as the ideal complement and most essential addition to the sandwich. The mayonnaise based sauce added a depth and complexity to the sandwich, giving  it its addictive flavor profile. 
The sheer size of this sandwich is astounding. For only four dollars, you are bombarded with an immense amount of chicken and flavor. The crisp chicken breast making up over 90% of the sandwich and extending far past the confines of the bun. This sandwich is well worth it's cost, the utter size of its contents and quality of its craft making it an absolute steal. It makes for an affordable and delicious meal and is resoundingly satisfying.
Overall the Popeyes chicken sandwich has earned its place as one of the most talked about and popular chicken sandwiches. This newly released sandwich almost identically matches with its predecessor and lives up to the hype spurred by the previous version. The Popeyes chicken sandwich deserves a five out of five stars for its amazing quality in taste, texture, and ability to live up to expectations. 

Loading ...