New coach, new goal
Varsity cheer works to break high school stereotype this season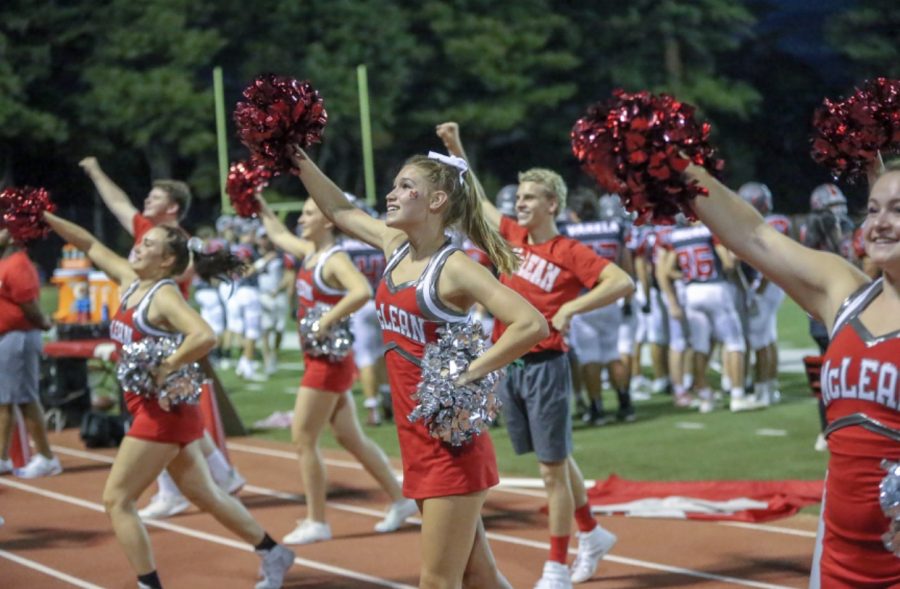 With a new coaching staff, McLean cheer is working towards breaking norms and changing high schoolers' stereotypical views on cheer.
As seen in movies, the stereotypical cheer team is a group of girls and boys cheering on the sidelines at the football games, but in reality, cheer is so much more than that.
"Success means winning and improving from the rut that has been McLean cheer," said senior Elana Ellington, who has been on the varsity cheer team for four years.
McLean has recently gotten a new coaching staff and with a new coach, the team set a goal of expanding the program and making it to regionals.
"We are definitely going to districts; regionals is hopeful," Ellington said.
The coaches are working hard to push the team to do their best, and with the new staff, the team believes that they have already seen improvement. The preparation for competition is extensive, but the outcome of regional champions would be very rewarding.
McLean's Varsity cheer team practices five days a week, but that time is never spent practicing cheers for the football games.
"Sideline cheer is two to three hours of doing jumps and chants," said senior Lucy Kehoe, captain of the varsity cheer team.
Throughout sideline cheering during football games, there are many guidelines and restrictions that the team must follow. Chants are not allowed while the ball is in play, and many stunts are not allowed to be done due to the lack of mats.
"Competition is two minutes and 30 seconds of putting your all in. Pure stunting, tumbling, yelling, just everything. Competitions are where you get to do the fun stuff," Kehoe said.
In previous years, the cheer team placed fifth or sixth out of six at Districts, this year the team tied for third place. Although not moving on the regionals, the McLean cheer team found great success at districts.
"This year's Cheer District Finals was by far the most competitive we have ever been," Kehoe said.
The rules were changed this year, where only first through third-place teams qualify to move on to regionals. This year McLean placed third in the semi-finals and tied for third in the finals, which resulted in a loss to Herndon High School by a very slim margin.
"I'm super proud of my team for getting the highest rank position they have gotten in a long time," Kehoe said. "I'm confident they'll make it next year."