McFootball falls at first home game
McLean football plays their first home game of the season against Marshall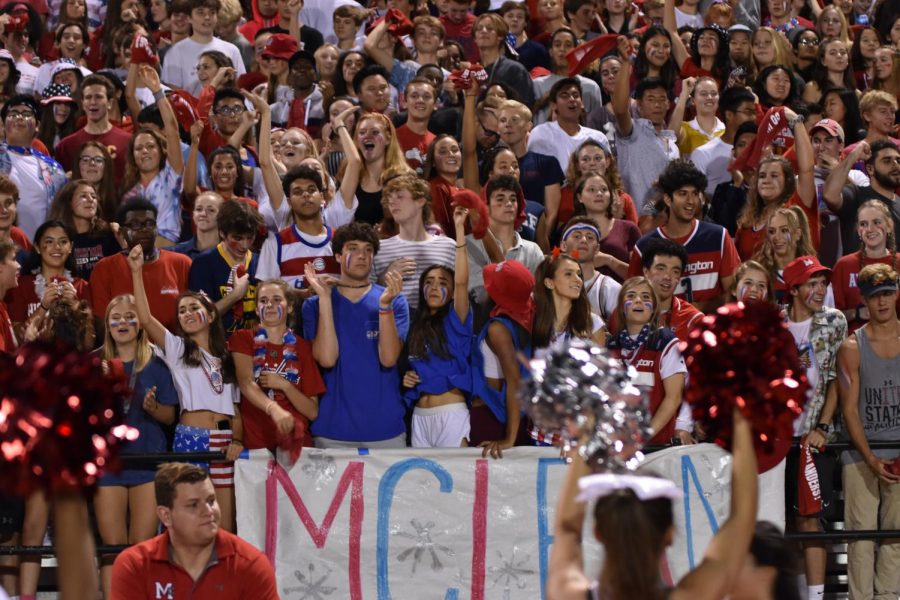 On Friday night, McLean football played their first home game against Marshall High School. Following McFootball's victory over Osbourne Park High School, this past week breaking their 0-20 streak.
High spirits began early Friday morning as students walked the halls decked out in red, white, and blue for the game's USA out.
"The spirit day was very pleasing. It's nice seeing the whole school dressed up together when everyone's style is so individualistic," junior Alexia Granados said.
 The spirits continued at the tailgate, and later as students flooded the stands in support of the Highlanders. The student section was overflowing as students pushed their way for a spot in the bleachers.
"Overcrowding [in the bleachers] was annoying but I'd rather have that than a lot of empty spaces," Granados said. 
The spirit was electric as the football team made their way to the field. The student section rose to their feet and was cheering as loud as they could. 
"The atmosphere in the stands was amazing, everyone had so much spirit. My favorite thing about attending games are the chants we do when all of us jump and chant in unison," Granados said.
Marshall started the game off strong leading 13-0 at the beginning of the first half. McLean trailing scored a touchdown making it 13-7. After the half McLean was down 16-7.
"The best feeling is when we score and everyone goes crazy," Granados said.
Both teams fought hard, but Marshall prevailed winning 23-7. Despite the loss, the spirit at the game definitely raised the bar for the remainder of the season.