Teachers hog Highlander Time
Teachers use students' only break during school day to teach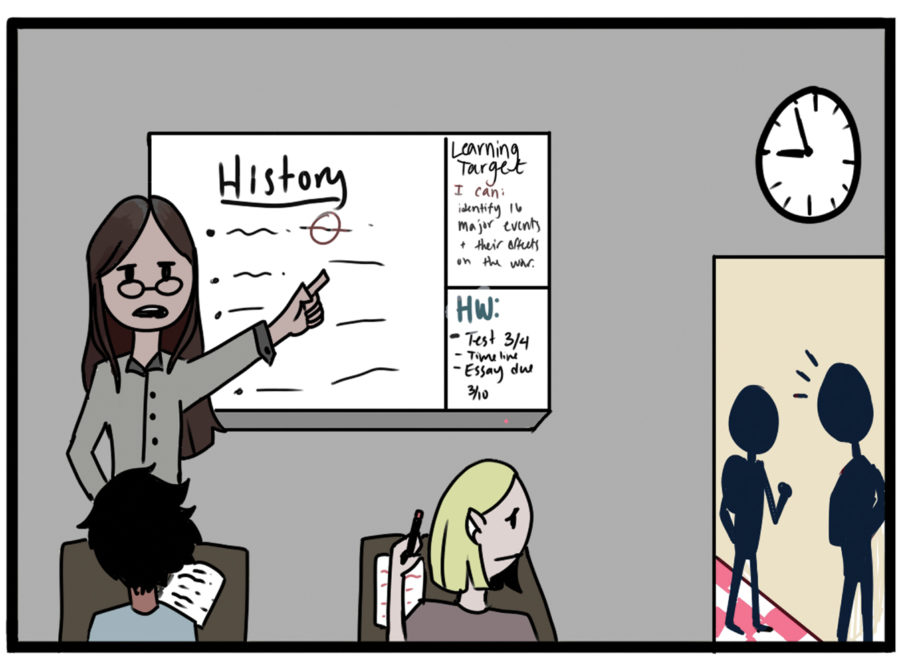 Editorial Board
June 11, 2019
*This article has been changed from its printed version in The Highlander Cub Edition. It was amended to more accurately represent the sources included in this editorial.
High school can be extremely overwhelming, and in our generation, stress levels are at an all-time high. At McLean, a student's only break during the school day is being taken away from them by their teachers, which is completely unreasonable and must be addressed.
"Highlander Time is a great way for teachers to review material, target specific skills to help students better understand content and provide support for students if they are struggling. It's a great way for teachers to conference with students and check their progress," assistant principal Jeffrey Barham said.
While Highlander Time is very useful in these respects, many teachers take this too far. The purpose of Highlander Time is to give students a chance to catch up on work, meet with teachers individually or relax and take a break from their otherwise draining school day.
According to Edutopia, students are easily distracted, but regular short breaks can help them focus, increase their productivity and reduce their stress. This is especially important at McLean, where many students take on overwhelming schedules.
Teachers who choose to teach through Highlander Time often say there isn't enough time to cover all the material in class.
"If I'm teaching during Highlander Time it might be because we need to make up time, or to review material that I might ordinarily go over during class," biology teacher Catherine Hott said. "I like it to be a time that I can work individually with students, but sometimes we need to use it to review material as a class."
While it is understandable that teachers must occasionally use Highlander Time to review with the entire class, if students use class time effectively, there should be ample time for all necessary material to be taught within the class time provided. 
Teachers should let students use Highlander Time as they wish but be available if students need individual help.
"A lot of times, students go to other teachers to figure out when they can make up work or when they can get extra help, so if I'm teaching through Highlander Time, then they're missing essential information in my class," English teacher Bridget Donoghue said.
According to the Fairfax County Youth Survey, an average of 42 percent of high school students reported high levels of stress in the past month. In addition to stress, 29.8 percent reported depressive symptoms in the past year. A break could give teens time to focus on how they're feeling and de-stress.
"I have to go see teachers a lot, especially meetings with counselors and administrators about things we can do around the school. I do that during Highlander Time, and it's extremely difficult for me to get those things done when the teacher is teaching and I can't leave," freshman Atticus Gore said.
A certain amount of material does need to be covered before SOLs and finals, but teaching during Highlander Time won't solve this problem. If more material needs to be covered, then teachers can assign homework, which students can choose to do during Highlander Time.
"Students put pressure on themselves with academics and extracurriculars. Having that small 30-minute break during the day is extremely helpful to let you guys socialize with your friends and have some fun during the school day," Donoghue said.
McLean students should stay on task during class in order to make sure teachers do not need to utilize Highlander Time to teach.
In other words, Highlander Time should be a time that students can use however they want. If they choose to catch up on homework, then that is their decision, but the period should not be structured by a teacher.