Rowing to nationals
Girls crew medal in Virginia Scholastic Rowing Association state regatta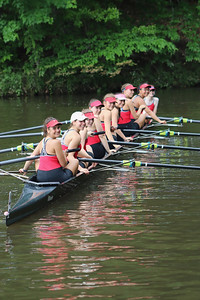 The McLean crew team was all smiles last Saturday when all four varsity boats medaled at States.
Last Saturday, May 11, the McLean crew team, both boys and girls, took home three gold medals and one silver, allowing the whole varsity team to advance to nationals in two weeks.
Both first and second varsity boats had tremendous success at the state regatta this previous weekend. The girls first varsity received second place, while the girls second varsity boat won first place.
"Of course we wanted first but we knew it would be a tough fight. I am proud of my team and what we accomplished," said Taylor Benedict, a first varsity boat rower.
Girls crew has been practicing year-round in preparation for this past weekend's competition. Winter conditioning, spring practices, and early morning practices helped the girls team gain confidence going into states.
Despite feeling well prepared after grueling practices, some girls felt the pressure while racing.
"I had recently moved up to the varsity boat, so I haven't been used to the intensity of the race, but during the race, I felt all the pressure and intensity put on this one race," said Carter Duncan, a first varsity boat rower.
The crew girls were anticipating good results this weekend as they had many first place results in previous regattas this season.
"We've come in first or second in all of our races so far, and we won our heat with open water so I expected us to do really well," said Kyla Duggal, a second varsity boat rower.
After a successful weekend at states, girls crew members are anxiously awaiting nationals, which will be held in Ohio in several weeks.
"I am exhausted but very happy. In the next two weeks I am really excited for nationals because I think we have a good chance of doing well," said Emily Luigs, a second varsity boat rower.