Rivalry games on our home turf
McLean varsity lacrosse falls to Langley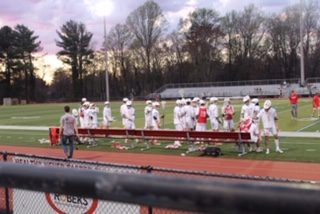 On Tuesday night, the McLean lacrosse teams faced the Langley Saxons at home for a varsity double header. The girls played at six p.m. and faced a tough matchup against Langley. The ending score was 19-3 with the Saxons winning.
For the boys, it was a closer game. The game started at 7:45 p.m. and McLean came in strong. Highlander,  Senior Tony Diaz, scored the first goal less than a minute into the game.
Throughout the first two twelve minute quarters, Langley scored three goals after McLean's first one. However, later in the second quarter, McLean came back. The first half ended with a score of 4-3, Langley in the lead.
Senior Conor Warren and sophomore Christian Margita scored the other two goals after Diaz's goal. During the first half, The McLean team worked together to get the ball down the field and tried to fight Langley's strong defense. The game continued to go back and forth between Langley and McLean.
The third quarter began with a goal by McLean's senior Zach Chung about four minutes in. By the end of the twelve minute quarter, the score was 6-5 with Langley winning, as both teams kept scoring. Chung also scored the fifth goal for the Highlanders.
In the final quarter, Langley had two goals, making the board 8-5. Luckily, Diaz was able to score another goal after Langley's two. By the end of the game, Langley scored another goal with two minutes left and Diaz scored his third goal with less than a minute to go.
The final result of the boys game was 9-7 and Langley won. Although the score was not what the team wanted, the lacrosse players played well and kept up with Langley. The next time McLean will play Langley will be in the postseason games where they have a chance to go to regionals and state.