Lil Skies' second studio album, Shelby
Life of a Dark Rose is followed by more quality content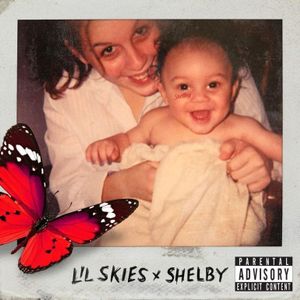 Hang on for a minute...we're trying to find some more stories you might like.
Shelby, Iowa? Peru? An odd title at first, rather, Shelby is the name of Lil Skies' second studio album released on Mar. 1. Competing only with Skies' first album, Life of a Dark Rose, both can be said to be great content produced by a talented writer.
Reflecting on the hard times he's been through without the support of his fans, Skies made the cover of Shelby a picture of him as a child in the arms of his mother. Although no details about the rapper's mother are available to the public, it can be assumed that Shelby is named after her.
"Dis for U Ma," Skies said in a Feb. Instagram post which teased at the cover art of the album.
Quite dedicated to both of his parents in fact, Skies often wrote songs about his father, fellow artist Dark Skies. Lil Skies' stage name is a play on his father's. The love Skies experienced throughout his childhood and positive vibe can be seen throughout his vibe and personality, making his music something special and admirable.
Focusing on how he thrives in love, Skies' track "Breathe" featured as #3 on Shelby contains an interesting beat which complements his voice. With many prominent rappers writing songs about heartbreak and hurt, I felt that this track was a great thing to help change up the game for something new. With Skies' personal love life being happier than most, this can be seen transmitted into his music. In Feb., he announced that he would soon excitedly be expecting his first child with his long time girlfriend.
"Oh, I can't sleep (I can't sleep)/Your love helps me breathe," Skies writes.
As well as "Breathe," a couple more favorites are hidden amongst others in this second album. One, previously released in June though still included on Shelby, called "Name in the Sand" is a beautiful love song and is the one I like the most personally. On it, he describes his affection for a girl and he hopes that their relationship might last forever.
Skies' islandish tropical vibe mixed with rap is a tricky combination though he pulls it off perfectly. This same type of sound can also be found in "When I'm Wasted."
Another, simply named, "I" is slightly more somber, however is quite relatable for listeners in many situations who are struggling with difficulties in their pasts.
Featuring multiple guest appearances Shelby includes only the best, artist Landon Cube. Cube and Skies are a very favorable duo, appearing on several songs together in and out of Shelby. Skies recalled his favorite of his own songs, "Red Roses," from Life of a Dark Rose which featured Cube, and is also quite an overall fan favorite.
Peaking at number 5 on the US Billboard 200, Shelby is an overall solid album, which is definitely worth a listen.
Rating: B+
For lyrics explained and more, click here- https://genius.com/albums/Lil-skies/Shelby