Best Buddies boast blue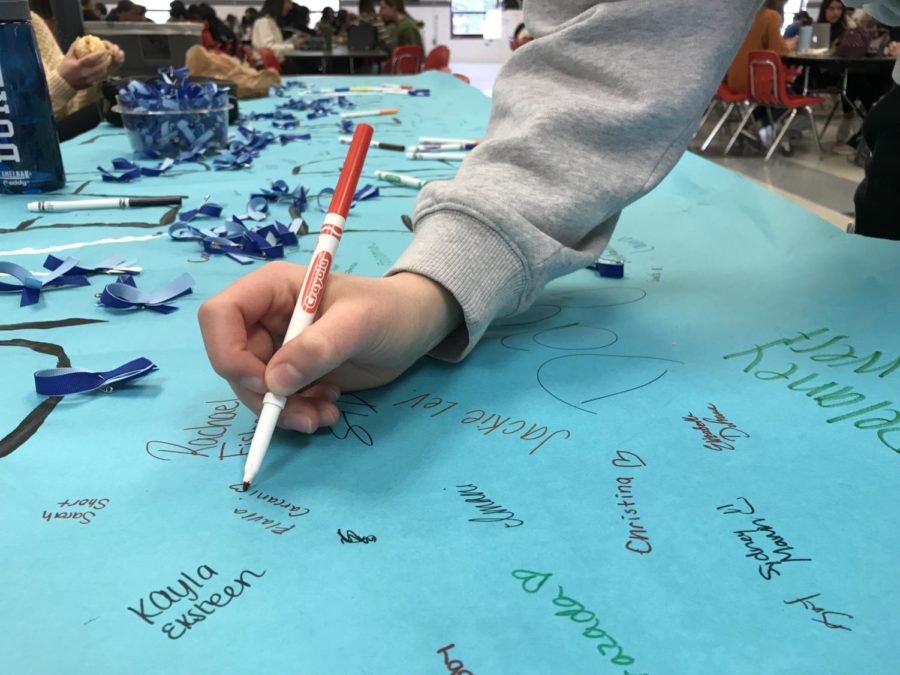 Students who entered the cafeteria today could not have helped but to notice the large blue paper resting across the front tables. The paper, which read, "Spread the Word to End the Word," was set up by the Best Buddies club.
"Spread the Word to End the Word is a national campaign to stop the use of the R-word," said junior Maggie Campion, who, after participating in a similar program at Longfellow Middle School, has been in Best Buddies since her freshman year and is now the President of the club's McLean High School chapter. "The R-word used to be a medical term for intellectual and developmental disabilities (IDD), and has become an extremely derogatory term to negatively describe people with IDDs."
Members of the Best Buddies club were seated at the table and offering pens to their peers so that they could sign the banner. The banner will be displayed in the cafeteria for the next few days in celebration of March being Best Buddies Month.
"I think that activities like this really help people to realize how hurtful the word is," said junior Julia Raymond, who joined Best Buddies this year and is now an associate member. "When [people who use the word] see the banner with all the signatures of the people who pledge not to say the word, it puts the word into perspective."
The efforts in place here will hopefully cut down on the use of this disparaging word at McLean High School.
"I think—and I hope—it does help raise awareness of the inappropriateness of the term used in any situation and how offensive it is to everyone. I don't hear people say it because all of the people I am typically around don't say it…but, unfortunately, it is still an issue here at McLean," Campion said. "Some people actually picked up the marker to sign our banner, but then heard what it was for and put the marker down."
Like Campion and the other students in Best Buddies, Raymond fully supports the Spread the Word to End the Word campaign.
"I know a lot of people in the Best Buddies club who remind [their] peers not to use the word when they hear it," Raymond said. "[The R-word] is used so regularly in society that people are desensitized to how hurtful that word really is."
Nevertheless, the word is still an insult, and students should avoid using that word at all costs. To further the promotion of the campaign, the group also handed out blue ribbon pins to people who signed the banner.