Reilly ramps it up
Principal Ellen Reilly leaves for six weeks to work with FCPS offices and bring change to McLean
Today is the first day at McLean without one of our most important and beloved staff members: Principal Ellen Reilly.
Reilly was chosen for an opportunity in FCPS that will take her out of McLean and will reinstate her as Acting Executive Principal of Region 2. This is an exciting opportunity that Reilly is perfect for, due to her experience and success as a high school principal.
"The region assistant superintendent, Fabio Zuluaga, contacted me and asked me if I would be willing to come in and do this," Reilly said. "The executive principal needs one elementary and one secondary [assistant principal], and so I have that secondary experience."
Her time away from McLean will total six weeks. Her first week starts today, and she will return after spring break. While Reilly is away, Mr. Barham will be the acting principal and Ms. Barcus will come in and help, when needed, with world languages work and social studies. However, Reilly does plan to come back and spend some time with McLean students and staff throughout her leave.
"I'm glad that most of the sports seasons will take off after Spring Break. I'm still going to the dance, I'm still going to Special Olympics," Reilly said. "I will still be here [and] know what's going on here because I will miss the kids."
Reilly is optimistic that her experience will give her a new perspective on the county. It will also give her an opportunity to bring up issues at high schools that are generally overlooked by the higher offices.
"We complain a lot that people don't help us or they don't understand what's going on in our schools," Reilly said. "I think it's going to give me an opportunity to see what's truly happening [higher-up] and then also hopefully advocate for the schools to say this is the kind of support we truly need. My goal is to hopefully get a voice for the high schools."
On March 5th, the McLean Citizens Association hosted an open forum with Dr. Scott Brabrand, Jane Strauss and Fabio Zuluaga. McLean, Langley and other area school students as well as parents and community members attended and spoke before the panel of FCPS representatives. Reilly attended this meeting as well and encouraged McLean students to voice their concerns. She is already well on her way to accomplishing her goal of increasing the voice of high schools.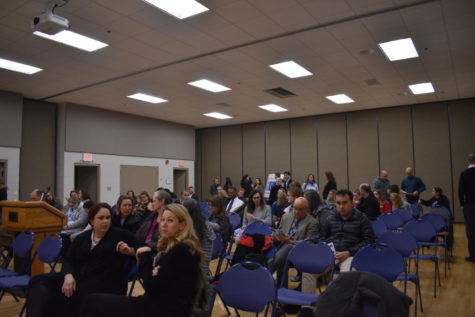 Her goal, once accomplished, will bring a new era of success and growth for high schools across the county. Reilly is also going to discover more immediate plans to improve McLean as she spends time with representatives from other schools. She hopes inspiration will help her make McLean a more constructive environment.
"I think I'm going to learn more about the different schools and what they're doing inside, instructionally but also the different cultural things they're doing that could maybe translate to here," Reilly said.
However optimistic she may be, Reilly has her reservations about the experience she will have day-to-day.
"I really am upset that I'm going," Reilly said. "I'm going to miss the kids. Where am I going to get my energy from? I'm going to be with adults the whole day."
Although it will be hard to say 'goodbye,' and Reilly will have to adapt to a new environment fairly quickly, she remains excited to come home to her students and bring back her new perspective to improve McLean as a whole.
"I'm really going to miss you guys," Reilly said. "I don't know what to expect. It's nice to go and see different things, but I'm really happy [here]. I like it here."