Alumni inspire McLean
McLean graduates give their college advice at an alumni panel for students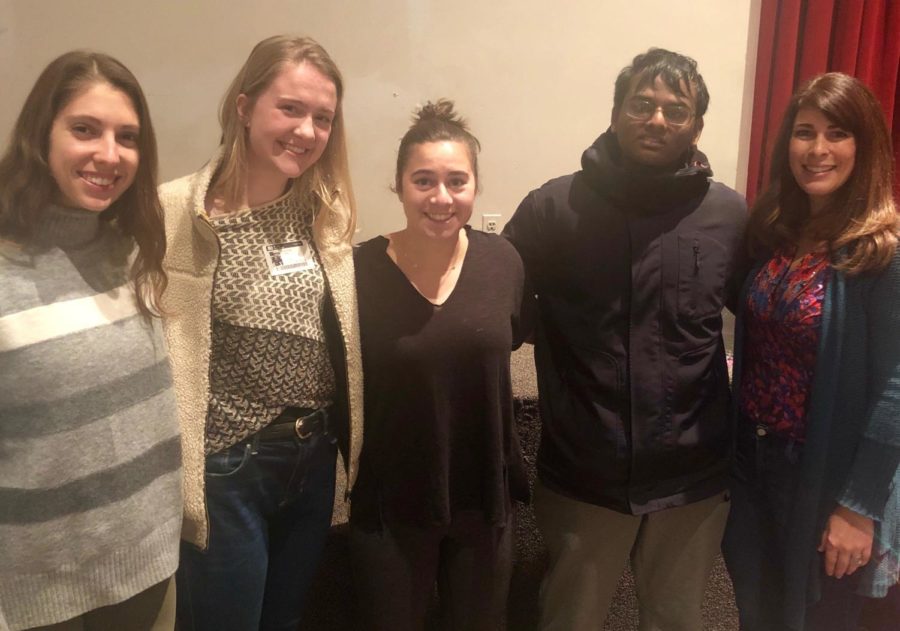 The weeks leading up to holiday break are far from a simple sleigh ride for high schoolers. The stress surrounding college seems inescapable. Applications and acceptances are on the minds of the seniors, and juniors are anxiously observing that process they will enter in less than a year.
Many students have questions about the college application process from start to finish and every second in between. Luckily, Student Services, in step with the giving season, is offering these students all the advice they need to make their journeys towards college as enjoyable as possible.
On Wednesday this week during Highlander Time, four McLean alumni visited the auditorium. These four graduates provided insight into the processes they went through to find the schools they now call home. Laura Venos, the Career Center Specialist, and the Student Services team began this panel tradition two years ago.
"We hope that by hearing from MHS alumni who [are] successful and are thriving, current students will destress a little bit and maybe walk away with some practical tips for moving forward regardless of where they are in the process," Venos said.
Grace Roomian, a 2018 McLean graduate and current student at the University of South Carolina (USC) shared her story first. Her brother went to USC, so she visited him often and loved the campus.
"I always had that initial experience there and always compared [other schools] to USC," Roomian said.
As she toured other schools, she realized that no other schools compared to the one that was so close to her heart. She loved the campus and knew she could spend four, happy years at that school.
Caroline Lewis graduated in 2017 and now attends the University of Notre Dame (UND) as a chemical engineer major. She originally wanted to play collegiate field hockey, but eventually dropped it to apply to schools that really interested her. She ended up applying to the University of Virginia (UVA) and UND early action, and got into both. She stopped applying after this.
"I don't recommend [that you stop applying] because it made the decision really hard," Lewis said. "I didn't decide until late April anyway, even though it was just UVA and UND."
She committed to UND in the end, and now knows she made the right choice. However, she feels that she got lucky.
Olivia McAuliffe graduated with Lewis in 2017 and goes to Duke University. Her father went to Duke. She feels that she made the right choice for herself.
"I toured and always knew I wanted to go there," McAuliffe said.
However, her social transition was not as smooth as she had hoped. McAuliffe recommends taking as many college tours as possible. On the tours, read the student energy. If students seem particularly stressed out or unhappy, or the personality of the campus does not mesh with your own, you know it is not the right place for you.
Karthik Natarajan, an electrical engineer major at Carnegie Mellon University (CMU), took a different approach to his tours. He applied to a lot of schools and once he got his results he began touring. Once he toured CMU, he was sold on it.
"CMU is the best culture for me to learn… it seemed like a perfect fit and balance," Natarajan said.
Every alumna agrees that the tours were vital for making the decisions on where to apply, and where ultimately to accept. A more prominent question on many students' minds is: how do I make myself attractive to all of the schools I tour and end up loving?
First and foremost, it is most vital to find a passion and explore it. Every graduate agrees that students should do what they want to do, not what other people are doing. Though it seems a normal comparison to make, try not to compare yourself with classmates. Don't participate in activities just to build a resume. What really shines through in an application or an interview is a deeply passionate candidate.
The overwhelming schedules many students are up against cause them to lose a component of life that many students overlook: their health, and most commonly, their sleep. Late nights may help get grades in on-time, but sleep deprivation can have long-term, unhealthy effects. By balancing the amount of activities and school work you have, you are automatically going to live a healthier, more fulfilled life of curiosity, rather than stress and hurrying.
Finally, Venos and the graduates agree that it helps most to talk to people. Classmates, students at colleges, counselors, and teachers are all informative resources who are eager to help you. If students are still unsure of how to tackle the process or have questions, Venos is always willing to help.
"I can help in many ways throughout the process but can also connect [you] with alumni at colleges of interest," Venos said. "Nothing is better than insider information!"
If it is the entrance into college that you are more concerned about, well, don't be. McLean prepares high schoolers incredibly well for the college experience. The only way to tackle the process is to find your own pathway through it. Students should embrace the challenge of applying to schools and should welcome the experience it brings. Venos reassures every McLean student that they will make it through their process and will end up alive and well on the other side of it.
"It will all be ok. You'll get through this. It is an intense period of time, but in the grand scheme, it is a short-lived process," Venos said. "If you are a current senior, this time next year you will be in college coming back to MHS to inspire current high school students."