George H.W. Bush leaves the world better than he found it
Great American passes Nov. 30, leaves remarkable legacy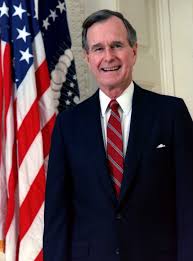 Hang on for a minute...we're trying to find some more stories you might like.
In 1942, an eager eighteen year old stepped up to join the military. For the next to years, this ace of an airman would fly 58 combat missions, eventually being shot down in 1944 by Japanese planes. Of the nine airmen shot down, President George H.W. Bush was the only one to escape. His remarkable life of service, duty, and dedication to his country thus began.
Like his father, who was a Senator, Bush saw a life of public service ahead of him, eventually getting elected to Congress in 1966. Though he left his seat in 1970 and lost a race in 1970, his life of service was not over. Shortly after, he became America's Ambassador to the United Nations. He would leave his post in 1973 to become Chairman of the National Republican Committee, amid the storm of Watergate. Under President Gerald Ford, Bush was appointed to be America's chief diplomat to China (essentially the ambassador). 
He led American foreign policy with China until he was appointed to be Director of the CIA, ensuring incidents like the Bay of Pigs and overreach of power would never occur again. In 1979, Bush announced a run for President, eventually losing the nomination to a charismatic Governor of California, Ronald Reagan. Yet Bush took defeat with grace, becoming Reagan's Vice President and running for President once more in 1988. 
Running in 1988, Bush had likely the lengthiest resume of any presidential candidate. The American people recognized it, and elected him to the highest office of the land. Though he would eventually break his famous promise of "No new taxes," President Bush ran a model administration, one built on respect, friendship, and a love of country. 
An administration built on friendship sounds ridiculous, but any staffer or official will say the same thing: Bush took the time. He always stopped to ask how a wife or kid was doing. He always took care and time. 
Bush's life was not without controversy: he was involved in the Iran-Contra Affair and essentially coined the term 'soft on crime.' And even if he broke his promises, he was a President willing to learn and to adapt, something that very few other presidents should be remembered for. His economic successes and tax raises set up the economic recovery and balanced budget of the 1990s. He brought the largest expansion of equal rights to the United States through the American Disabilities Act, guaranteeing access to disabled people who had been previously left behind. 
Yet this incredible life of servitude speaks only volumes to his public life, and his dedication to his country. But he was equally dedicated to his family. He raised a dedicated and patriotic family, one dedicated to the greater good of the country and world. He loved them, and his last words on earth were "I love you too," which he said to his son and 43rd President of the U.S. George W. Bush. He treated his country the same way he treated his family: with love and respect.