The holiday season comes with new holiday movies
Netflix is beginning to release new holiday movies for this season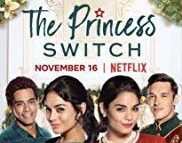 The weather is getting colder, people are putting up their trees with lights, and ice skating season has come. As the December comes around, Netflix is bound to release new movies. This year, one Christmas movie is called The Princess Switch.
This movie is about a baker from Chicago who gets invited to a international baking competition in Belgravia a week before Christmas. While she is there, she meets her doppelganger who happens to be the royal duchess. The two of them decide to switch places for a couple days and experience each other's lives. The climax occurs when they have to switch back places and when the baking competition ends.
The ending of The Princess Switch is relatively predictable, but that's not always a bad thing, although it makes the movie less interesting.
This movie is in the genre of romance and maybe a little comedy, so if that's not your style, I would not recommend watching it. I, personally, like to watch rom-coms. Most of the events that happened in this movie were sweet and maybe a little sappy.
The overall movie was not entirely related to Christmas, but it was a cute story filled with happiness and Christmas spirit.
"I'm not a huge fan of romance movies, so it was kinda cheesy, but overall still good," Junior Flavia Carcani said.
This was only one of the many Netflix movies that have been released this holiday season. I would rate it a four out of five stars because it was very good besides the predictable portion of it. But, the majority of rom-coms have one foreseeable plot, so it makes sense that the movie had an unsurprising ending.
This December, I am excited to watch more Christmas movies, like this one, on Netflix. They aren't the traditional Christmas movies, but they still relate to the holidays. Therefore, they are fun to watch during this time of year.