Students thankful for calendar change
New school calendar extends Thanksgiving break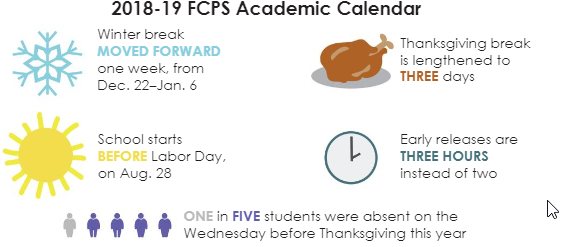 Hang on for a minute...we're trying to find some more stories you might like.
Students crowd the halls laughing and cheering as they exit their classes at 12:25 the Wednesday before Thanksgiving and head to either lunch or their cars for break. This year, on that Wednesday, students will be traveling to see family and friends or in the comfort of their own homes as Thanksgiving break has been increased to three days.
On December 14, 2017, the Fairfax County School Board chose the school calendar for the 2018-2019 school year. This includes a three day break for Thanksgiving, eliminating the traditional Wednesday two-hour early release.
School attendance officer Rence Yates stated that 375 McLean students were absent the Wednesday before Thanksgiving last year, approximately one-fifth of the school.
The extended break allows for students and teachers to travel earlier than for the holiday, without the stress of missing school.  
"Having a longer break allows more time to actually relax, because usually Thanksgiving breaks aren't long enough to make it actually feel like your getting time off, it just feels like a long weekend," sophomore Julia Irons said.  
Along with the change in the Thanksgiving break, winter break now stretches from December 24th to January 4th, one week later than last year. Three-hour early releases have also replaced standard two-hour early releases.
"I like it better that the week is one week later, because usually after Christmas and New Years you have to start getting ready for school, but now you have more time to relax," sophomore Mary Scalia said.