Trippie Redd's A Love Letter To You 3
The third love letter to fans is becoming stale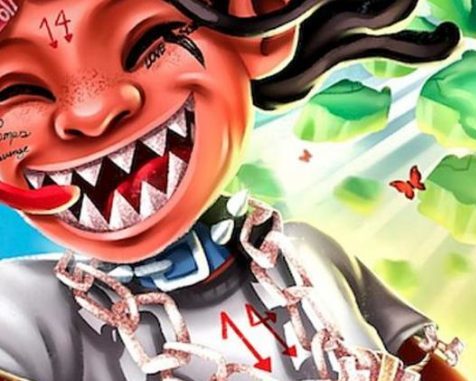 Two love letters later, Trippie Redd released A Love Letter To You 3 on Nov. 9. Having the same date as Lil Peep's Come Over When You're Sober Pt. 2 and XXXTentacion's single "Bad," the album had a lot of competition and was slightly overshadowed though it is a decent work.
Focusing more on the negative aspects of love as an idea, A Love Letter To You 3 follows in the same footsteps as one and two. The main single of each album, "Love Scars" reappeared for the third time, however, the best song featured is clearly "Can't Love."
"Can't Love" is simple and melodical, and is relatable to most listeners who have suffered the trauma of being left or cheated on in relationship. It is centered around his frustrating breakup with his former girlfriend, AYLEK$, also known as Angvish, which occured in April of this year.
"She say she love me, I know she love me not/How could you do this to me/I thought you loved me," he wrote.
Feeling particularly betrayed by Angvish, Redd had found out that she had begun to see rapper 6ix9ine, a long time of enemy of Redd after leaving him. The pain expressed in the straightforward lyrics make "Can't Love" worthy of approval.
A similar idea to this is conveyed in "I Tried Loving," where he reflects again about Angvish. Redd continues his story of heartbreak by taking drugs to try and cope. Though the beat of "I Tried Loving" is not as catchy as the one in "Can't Love," the lyrics are just as meaningful.
Directly comparing love to a painkiller, he explained how romance is similar to drugs such as Percocet as they numbed his thoughts and mind so he was only able to see an altered version of reality. 
"Pain killer in disguise, I can't feel a thing off the Percs," he wrote.
Another favorite off the album is "1400/999 Freestyle," which features artist Juice WRLD, an interesting and innovative combination. Although this freestyle included these two extremely talented musicians, it was not as good as it should have been considering the appeal of their previous songs.
Featuring many other artists as well such as Baby Goth, Emani22, Kodie Shane, YoungBoy Never Broke Again and Tory Lanez, there was obviously a lot of work put into the creation of ALLTY 3, though in the big picture it did not add to the quality of the album.
Due to the release of "Topanga," a single created by Redd in October, my expectations were set low for the rest of the album by the awkward lyrics and beat. Eventually, it began to grow on me but is still not as good as the rest of the songs and seems different than the type of music Redd usually creates.
Overall, ALLTY 3 is inferior to number two, though still contains a few gems on the record. The effect produced is that Redd is becoming dry for new ideas, and needs to rethink the new style he has been experimenting with.