McLean establishes club to end gun violence
Students speak out against lack of gun control and safety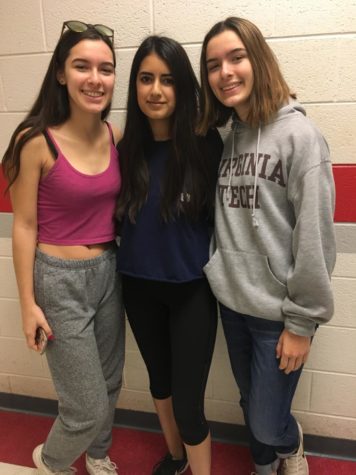 McLean Against Gun Violence (MAGV) was established by two Highlanders, Rachel and Elena Perez, after the Parkland shooting last year in February, with an objective to raise awareness on issues related to gun violence. 
MAGV is open to all students who want to come and join the discussion about safety issues. Its members meet every Wednesday after school in room B184 to discuss ideas regarding gun violence and safety issues. 
"We focus on education about gun violence and safety. The girls that do the club— it is not necessarily that they are against guns, but about making sure that people are aware of gun safety. They are also interested in getting involved with elected officials to push for changes that they think would be helpful to stop gun violence," said AP Government and History teacher and sponsor Rachel Baxter.
MAGV is centered around educating students and empowering them to communicate with their elected officials. It gives students opportunities to share ideas about informing others about gun safety.
"We think that MAGV offers a unique experience because the club allows students to interact and discuss a highly sensitive and polarizing topic in a safe environment," said co-president and senior Elena Perez.
MAGV plans on developing campaigns to educate students and the public about gun legislation and safety as well as improving their knowledge on the topic in order to strengthen their individual viewpoints and expand their perspectives.
"As presidents of MAGV, we hope to see enthusiasm and activism from our members. Despite a student's knowledge of the subject and opinion, we encourage members to use our club as a forum for education and discussion", said Perez.
The McLean Highlanders were mentioned in Teen Vogue by Don Beyer while participating in the National Walkout last year. 
"This group from McLean HS brought me letters written by their classmates. Like most of my constituents, they want #GunReformNow," Beyer tweeted. 
The Parkland shooting left 17 people dead and many more injured. The reaction triggered country-wide protest rallies. Like previous school shootings, the Parkland shooting once again ignited the gun control debate at the echelon of powers and there were fresh demands for taking strict measures on gun control.
"Our members have differing viewpoints and individual opinions on what this country should do to prevent gun violence. However, we can only hope that the government strengthens gun legislation and takes some measure to protect civilians from violence, " Perez said.
Even though hundreds of people have lost their lives to gun violence, the country political leadership is still divided on this crucial issue.
"We want students to join MAGV and become a part of the club because it is important for people to stand up for what they believe in and know that however powerless we may seem, our voices are heard, " Perez said.