Environmental club cleans up McLean
Student environmentalists set goals to make the school a cleaner place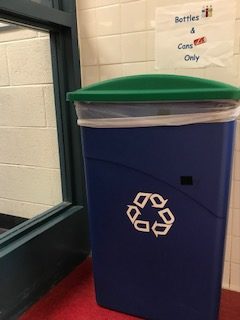 The environmental club met for the first time on Sept. 27. The aspiring environmentalists filled up the Tech Ed room after school to set their goals for this year.
"We've been working a lot on the garden in the courtyard," senior Ji Sun Lee said.
In the past year, the club has gone outside the school to do cleanups and help out after storms, but members are looking to do more work inside the school grounds in upcoming months.
"[The students] are 100 percent the input of what we do in the club. I try to just be the facilitator," said technology and education teacher Cara Mosley, sponsor of the environmental club.
The students in the club organize most of what the club works on.   Mosley gives them ideas and lets the students decide what and what not to do.
"Nowadays, there are a bunch of environmental problems, and students who really care about them and want to make the world cleaner and greener come and join.  Everyone is trying really hard to make things better around the school," Lee said.