The Red Sea: No longer the Dead Sea
Mclean students swarm D.C to support this years Stanley Cup victor
June 12, 2018
Filed under Sports
Hang on for a minute...we're trying to find some more stories you might like.
A multitude of Caps fans from McLean High school flocked the streets of D.C. and watched the team celebrate their 44 year overdue Stanley Cup victory. The true Caps fans sacrificed some study time to enjoy the festivities, as well as capitalizing on a chance to see a few of their favorite players.
The parade featured local high school marching bands, the whole Capitals hockey team, and a not too shabby Capitals version of "We Are The Champions." Rising senior Jack Mcmanus described the scene as, "a great example of true D.C. spirit."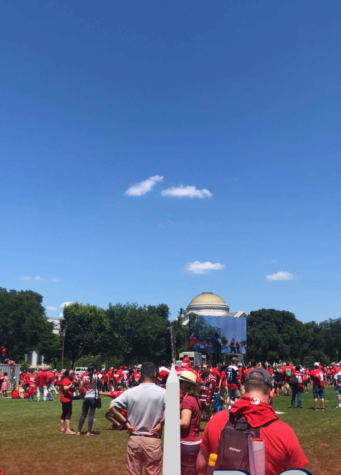 (Photo Courtesy of Jack Mcmanus)
The parade atmosphere was outstanding, and it was even more outstanding to see the excitement in everyone's eyes as the entire team entered the scene. "It always fun to see your team do well on TV, and I love coming out to D.C to support  them even more after such an awesome victory, said senior Hunter Jewett. A fan favorite T.J Oshie started a chant saying, "Back to back!" One can only hope that this mentality remains until next year.