DECA students visit Atlanta for international conference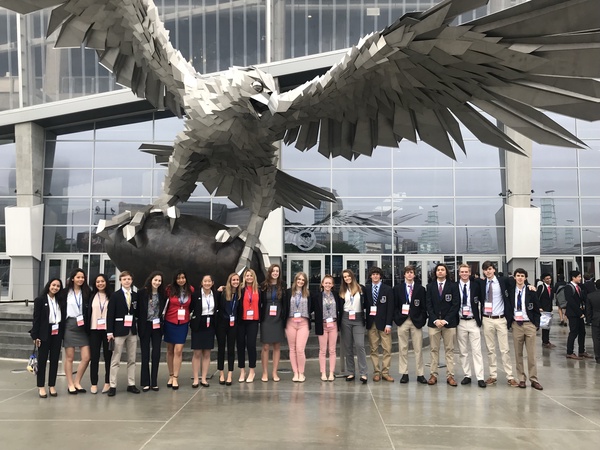 Hang on for a minute...we're trying to find some more stories you might like.
Last week, 19 McLean students found their way to Atlanta for the International Career Development Conference. The event brought in students from around the world and offered a rare opportunity for kids to experience marketing and other careers, receive praise for their academic accomplishments, and compete to show off their knowledge and skills. With DECA students coming into the city from all parts of the globe, McLean students got a unique perspective into the fundamentals of different global economies.
"At the DECA international conference, I was able to meet and learn from kids that were from all over the world. It gave me a great insight into how different marketing strategies and sports management were compared to the US," junior Carter Robertson said.
The conference was based at the Georgia World Conference Center, but students were also able to explore other parts of the city such as the  Mercedes-Benz Stadium, a multipurpose arena that is the home of the Atlanta Falcons of the NFL and Atlanta United of MLS. They also got to stop at the world famous SkyView Atlanta Ferris Wheel.
Besides the side attractions, students used the trip to further their passion and knowledge for business careers and gain insight into the possible development of their potential careers on an international stage. Four days were allotted for the group to gain connections and new skills that they can bring back to McLean and hopefully use in the future.
"DECA is a great opportunity for students to get connected to real world things through a school event, and it's a great way to get real experience in business and marketing all from one club," junior Adam Lampal said. "In Atlanta, I got to talk to many different kids from other states and countries who share similar interests, and I learned a lot just from talking to these different people. I think that it was a really cool experience to be able to meet people from all over who want to go into business or marketing later in life."