A McDance-a-flashmob?
McDance-a-Thon committee surprises students with an unexpected dance-off during lunches
Hang on for a minute...we're trying to find some more stories you might like.
This past week, McDance-a-Thon kicked off their annual spirit week followed by the official event, which occurs this Saturday from 5 p.m. to 12 a.m. at McLean High School. During this spirit week, the amazing committee and its members work hard to raise awareness for the event by playing music during lunches as well as organizing fun activities for all grades to participate in while they sit in the cafeteria.
Today on April 6, the last day of the spirit week and the day before the big event, students filled the cafeteria for lunch time with the motive to yet again hear good music, and maybe join in on whatever activity the team provided for them. Some may have expected what was to come next, some may have not.
As snickering between the scattered McDance-a-Thon members was evident throughout the cafeteria, suspicion grew and patience for something to happen began to disappear. Suddenly, music started creeping over the speakers, as the members gathered and split like the red sea to reveal junior Sam Monroe standing solo looking into the distance. Not so far away was junior Maria McHugo who seemed to be wearing some pretty funky accessories. It was clear that the audience was about to witness a dance-off.
As Monroe backed off to let McHugo begin the duel, a group of more members came to join her, all wearing the same sort of costume which consisted of a sweatshirt, and tacky sunglasses. As McHugo led, the group preformed a coordinated, and entertaining dance, full of different but modern day dance moves, and a pretty impressive back flip making the audience laugh from enjoyment.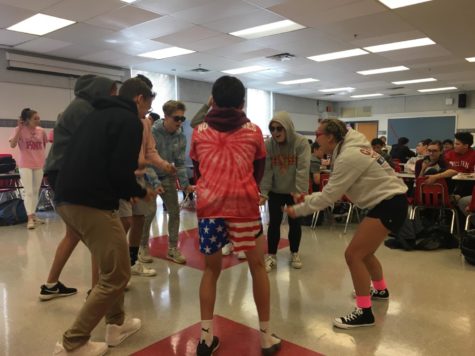 As McHugo's group commenced their performance, a different song began to play introducing a whole new group led by Monroe and junior Niki Zarkani. The dance included similar moves to the previous one, like "the shoot" (a commonly known move among high schoolers these days) and a few more advanced moves from the gymnasts, and dancer Monroe herself within the group.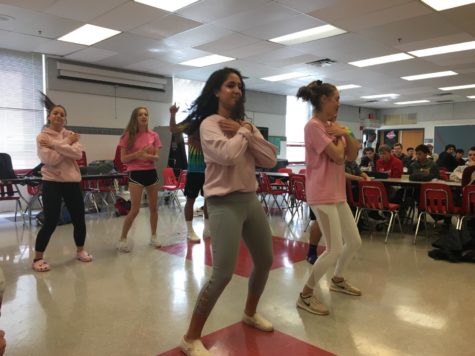 The dance-off was the perfect way to kick off the weekend. As well as providing a great source of entertainment for students, it was also a perfect motivator to attend McDance-a-Thon the following day.