NBA update Vol. 3: The rise of the rookies
The NBA draft class of 2017 embodies greatness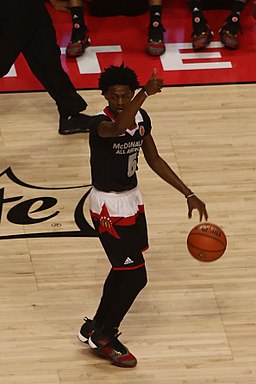 Hang on for a minute...we're trying to find some more stories you might like.
With the NBA season at its midpoint, fans have witnessed an array of fresh talent from the 2017 draft class.
Maverick's rookie Dennis Smith Jr. has shown a hunger like no other in the League. As the newest member of the team, he carries himself like a veteran on and off the court. Through his determination and discipline, he leads his team with a poise unique to his class. He carries himself with poise on and off the court while playing with a furious aggression. His athleticism, drive, and determination assist him in finishing over towering defenders. His humble personality and sincere smile are what fans love about him. Sophomore Thomas Balistrere explains his pick for rookie of the year.
"I think Dennis Smith Jr. will win rookie of the year because of his killer work ethic and feel for the game," Balistrere said.
Moving to Boston, Celtics rookie Jayson Tatum has proven to be an elite scorer among his class. With an impressive post-up game and fluid jump shot, his style of play resembles Knicks legend, Bernard King. His signature move is a post-up fadeaway jump shot that is virtually unstoppable. Tatum's smooth, yet powerful finishes are what makes him a formidable player. Senior Jake Parker shares his thoughts on his favorite rookie.
"I like Jayson Tatum because of his three-point shooting and how he's mastered pretty much all the fundamentals," Parker said.
Looking at Los Angles, Laker's rookies Lonzo Ball and Kyle Kuzma have shown potential for superstardom. With the mentoring from Cavaliers forward LeBron James, Ball's game is headed in the right direction after a lackluster beginning to the season. However, Kuzma has already shown sparks of greatness through an array of versatile scoring. His off-ball movement and quickness of the dribble have been significant in his consistent scoring. With his fellow rookie Lonzo Ball, the two have a developing chemistry and friendship, as well as healthy competition. The two have been seen playing one-on-one after practice, as their competitive spirits push each other.
Heading to the Windy City of Chicago, Bulls rookie Lauri Markkanean has proven to be a prolific shooter among NBA rookies. Additionally, his top-tier athletism and uncanny finishing ability have made him an exceptional rookie. His shooting form is comparable to Knicks forward Kristaps Porziņģis, as both jump shots are quick with high releases. His role on the Bulls has evolved from a versatile shooter to a powerful slasher.
Visiting Sacramento, Kings rookie De'Aaron Fox has shown the makings of an elite floor general as well as a sound defender. His tenacious defense has earned him the nickname "Swiper the Fox," as he steals the ball with a fox-like swiftness. Fox has contributed to his team's overall success through his assertiveness on the defense end. However, his offense is limited, as he is still developing a jump shot. With an abundance of hungry talent, the 2017 draft class has already proven to be one one of the greatest.
(All photos obtained via Google images under a Creative Commons license)