Freshman looks to begin Legg-acy at young age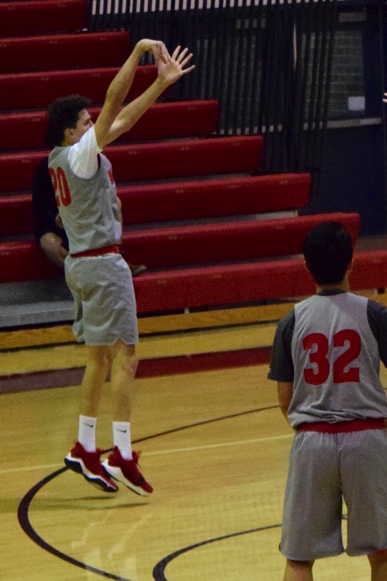 Hang on for a minute...we're trying to find some more stories you might like.
Beads of sweat dripped on the hardwood as fighting spirits, vying for a spot on the varsity basketball team, pushed themselves to their limits. Seven of the boys on the court during tryouts were returners from last year's team, leaving only an estimated 12 spots, as there were 12 players on the team last year. One of the five players who made the team, at the end of three days of intense tryouts, was freshman Nate Legg.
It is not often that a an underclassman makes a varsity sport, let alone a freshman; Legg is the most recent athlete to do so. Conquering such a feat requires a certain level of prowess for the sport and a high-level of intensity and drive. The last freshman to make varsity basketball was Mathias Prock in 2015.
"He is coach-able, he is willing to listen, and he works hard every moment. He brings the attributes and attitude that we need as part of the program," head coach Mike O'Brien said.
It isn't unheard of for a freshman to be nervous during tryouts, but Legg, not really knowing what to expect, was able to keep his mind straight and set on his goal of making the varsity team.
"Going into tryouts I was nervous because I didn't know what to expect, but I knew that I had to be confident in my play and hustle for every ball to stand out to the coach and make a good impression," Legg said.
Legg's efforts shined with flying colors and did not go unnoticed by O'Brien.
"With the number of people trying out, Nate actually did on par with everybody else," O'Brien said.
Being told he made the team was the first step of many on his journey on the varsity team and it sure was a moment to remember.
"After I was told I made the team, I was very excited. I was the last person to be told I made the team, and when I came out of the locked room I was greeted by the rest of the team," Legg said. "Overall, it was an experience that I will never forget."
While he is only a freshman and does have a long road ahead of him, his presence is already being felt by his teammates and coaches alike.
Nate has some learning to do…his biggest obstacle is that he is two and three years younger than some of the guys he is playing against," O'Brian said. "But right now his commitment, work ethic and his attitude in practices helps us everyday."
One of Legg's closest friends, junior Brian Akka, is hopeful for the success that Legg will help bring to the team in the future.
"I'm happy for him, I've known Nate since he was in seventh grade and he's gotten so much better," Akka said. "I feel like we are going to have a good bond this year."
Students at McLean love seeing young athletes perform at the varsity level; it gives them an opportunity to chant the famous chant: "He's a freshman!" The future is looking bright for the boys varsity basketball team and Legg is hoping to help them with that step in the right direction.