Live from New York, it's a strong start
Saturday Night Live premiered on Sept. 30 with a mix of delightful absurdity and sharp Weekend Update jokes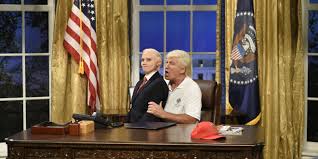 Hang on for a minute...we're trying to find some more stories you might like.
It is going to be hard for Saturday Night Live to top the smash hit they enjoyed in Season 42. The season was rife with scathing political satire, aided by Alec Baldwin's Emmy Award-winning impression of Donald Trump and Weekend Update hosts Colin Jost and Michael Che's lightning-fast wit. In addition, the non-political content was strong: Tom Hanks' David S. Pumpkins went viral and pre-taped sketches such as "Pepsi Ad" and "Enhancement Drug" were highlights.
On top of all this, the show's ratings soared to a high they hadn't seen in 25 years. The massive success of last season guaranteed that Season 43 would be in a sticky situation from the start, but it might be the least of their worries.
Hindered by the departures of longtime players Bobby Moynihan, Vanessa Bayer, and Sasheer Zamata as well as head writers Chris Kelly and Sarah Schneider, SNL is going to have to find ways to keep the spark they found last year intact while delivering fresh, relevant comedy. How will they do this? Although September 30th's premiere did not answer that question perfectly-several sketches fell flat and the political commentary was relatively weak- it had more than enough bright spots to be considered a strong start.
Poor, poor Ryan Gosling. He tried so hard to keep it together, yet somehow managed to break into fits of laughter in every live sketch of the night. At times, it was understandable. In "Another Close Encounter," three small-town friends are interviewed about their experience being abducted by aliens. Cecily Strong and Todd (Gosling) had a beautiful, transcendental experience, while Ms. Rafferty (Kate McKinnon) underwent an intrusive anatomical evaluation by a bunch of "little gray aliens". Rafferty demonstrates what she went through using Todd as her guinea pig, a hilarious change in formula from the three "Close Encounters" done on SNL in prior seasons. Gosling couldn't get through the scene without breaking, a testament to its smart writing.
Other sketches didn't deserve such a generous reaction from the host. "Dive Bar," the last sketch of the night and a sequel to an obscure sketch from several seasons ago, was an utter mess with faulty props and awkward writing. The only thing that saved it from total disaster was how much fun the cast seemed to be having as they struggled through it.
Similarly flat was the cold open. You would think that a summer's worth of time and material would prepare the writers for a better start to the show, but the only interesting part was McKinnon's innovative impression of Attorney General Jeff Sessions.
The absurdity of some sketches elevated them from decent to highlights of the episode. The sight of Aidy Bryant as a chicken dressed in sunglasses and a scarf while she greeted Gosling, her long-lost human love, in jail provided a great ending to the otherwise just-okay "Henrietta & The Fugitive." "Papyrus," a pre-tape in which Gosling's character grows irate over the marketing of the movie Avatar, was hilarious due to his over-the-top reactions.
Weekend Update provided more than enough quality political comedy to make up for the dud that was the cold open. Michael Che shined in an extended monologue about President Trump's handling of Hurricane Maria. When he asked Donald Trump to "tell Melania to put on her flood heels, get some bottled water, some food, pack up some extra Atlanta Falcons Super Bowl t-shirts, and write them a check with our money," the audience was in stitches, and it was only the beginning. Alex Moffat's Guy Who Just Bought a Boat character had a very entertaining return from his debut last season, and his sidekick Guy Who Just Joined SOHO House had many notable quotes, particularly when talking about his "semesty abro-bro in the Barcelone-zone."
SNL's premiere wasn't perfect. Though an adjustment period is to be expected after such a significant turnover of cast and writers, it is necessary that the cold opens improve in the future. However, the return of several beloved characters and the delightful absurdity of many sketches kept this episode from joining the bottom of the ranks. I expect to see a better blend of quality sketches and political commentary and look forward to seeing more of our favorite characters as the season progresses.