Chance the Rapper rocks Jiffy Lube
Chicago music artist dazzles in Bristow, Virginia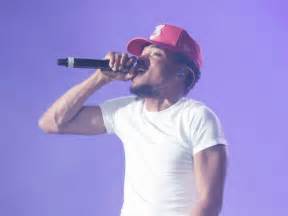 Hang on for a minute...we're trying to find some more stories you might like.
Chance the Rapper, as part of his "Be Encouraged tour," made is way to Northern Virginia as part of the his early run on summer concerts. On a cloudless Sunday night, he emerged to energize a crowd of over 23,000 people. The singer himself acknowledged the sheer greatness of the spectacle, as he had never performed to such a large group of individuals.
The Chicago native appeared shortly after 9:40 to a roaring applause to a crowd that had packed the entire Bristow venue to full capacity in anticipation of his appearance.
"The atmosphere was great," junior Chris Schram said.
Remarkably, all the audio and sound effects came from the drum set, keyboard, choir, and the jazz instruments of the supporting cast. Chance the Rapper's performance also notably lacked a DJ setup, making his performance all the more authentic and exhilarating when considering all the efforts of all the performers and the executions of their tasks.
Dazzling in just a white shirt and jeans, Chance conducted the audience numerous times during the concert, whether it was chanting to "Same Drugs," or dancing along with "Angels."
On the screens to the right and left of the stage, the music videos accompanying the songs that Chance was performing were played, including "I'm the one," a song that also features artists Justin Bieber, Lil Wayne, and Quavo.
"
The atmosphere was great"
— junior Chris Schram
No matter which song he sang, Chance never paused and gave the audience a moment to sit and relax. Each lyric of each song rolled off his tongue, and the concert audience did its best to mimic and sing along with the performer.
"I liked all of them," junior Ethan Steel said.
Anyone leaving Jiffy Lube live left feeling upbeat about themselves following Chance's passionate performance. All of his songs were exhilarating and any future visits from the artist will definitely be looked forward to as they were on the days leading up to June 4, 2017.