The rise of the Big Baller Brand
Lavar ball has been drawing attention to himself and his NBA bound sons who have shaken the sports world.
Michael Redding, Sports reporter
May 17, 2017
Filed under Sports
Hang on for a minute...we're trying to find some more stories you might like.
With the outbreak of the three basketball brother stars; Lonzo Ball, Liangelo Ball, and Lamelo Ball, the Ball family member that has made the most noise is none other then their father Lavar Ball. With his outrageous statements such as how he claimed he could beat Michael Jordan in a one vs. one basketball game to how his oldest son Lonzo is currently better then NBA superstar Stephen Curry.
He has been on ESPN arging with analyst Stephen A. Smith about the potential of his sons. LaVar Ball has figured out how to get our attention. In less than a year, he's gone from just another suburban helicopter parent to a household name and wannabe marketing entrepeneur. Big Baller Brand, the shoe and apparel company LaVar founded, has generated the kind of publicity for which companies spend will millions.
There have already been two weeks of news reports reacting to the launch of Lonzo's first signature shoe, the outrageously priced ZO2 at $495 a pair. That's after weeks of turmoil about shoe companies spurning the Big Baller Brand itself and LaVar's proclamation that his sons were worth "a billion" as a brand.
Junior Sean Senft has followed the Ball brothers as well as Lavar Ball and looks to buy as much Big Baller Brand Merchandise as possible.
"The Big Baller Brand is a quality establishment and Lavar ball has done a great job running the company aswell as raising his sons to be great players," Senft Said.
He plans to make a documentary and commercials and he says his Big Baller Media group is producing them, or the sports agency, the Ball Sports Group, that represents Lonzo.
It's straight out of the Kardashian playbook, authored by extraordinaire Kris Jenner, who recognized early on that no matter how outrageous celebrities might act, people will pay even more outrageous prices to wear and watch them.
Senior Natalya James has grown a liking towards the brand after Lonzo had his break out season at UCLA.
"Lavar has definitely brought a lot of attention to himself as well as his brand and honestly I respect his desire to run his own company," James said.
But there's a bit more to this than the scheming business man Lavar Ball. LaVar's three sons with NBA potential and an anti-establishment message that's tapped into larger trends toward independence in music and not conforming to bigger brands such as Nike and Adidas.
Those stars waited until they were stars to cut out the big companies. But already LaVar's called out: the shoe companies, the NCAA, AAU basketball teams run by shoe companies, retail stores taking a cut of shoe and merchandise sales basically all the competition for his brand.
Either way, he knows how to run a basketball brand because he came up playing the game. LaVar played college ball in the mid 1980s and early 1990s but never had the guidance of a great or anywhere near the skill and talent that his sons have. He was athletic enough that former New York Jets executive James Harris signed him in 1994 to see if he could be turned into a football player. He played one year of tight end in college. The most impactful thing to come out of the time he spent in the systems of the Jets and Carolina Panthers was enough money to send home to his wife Tina so she could buy a house that was big enough for them to raise their future kids, whom LaVar was certain would be boys.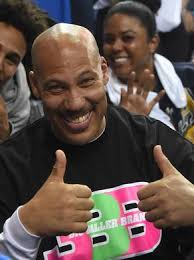 (All photos obtained via Google images under a Creative Commons license)