One season too many
Why Grey's Anatomy should have ended at season 12
Hang on for a minute...we're trying to find some more stories you might like.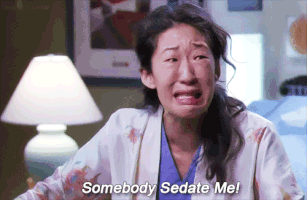 Let me begin this by stating that I am a huge Grey's Anatomy fan. I have loved this show from Day 1 when Meredith and the clan were nothing more than hospital interns dreaming of their first surgery. Now, going on 13 seasons later, I have seen characters, love interests, patients, hospitals and an endless stream of story lines come and go. By season 13, my favorite interns are now essentially running the hospital as attendings. I have loved every second of it.
It is out of this desperation that I have clung to the tattered remains of this show into the 13th 22 episode story arc. At this point, only 4 of the original cast truly remain and Meredith and Alex are several marriages and children wiser than their intern selves. With literally every possible story line carried out over the years, the brilliant Shonda Rhimes has resorted to lackluster and bland efforts of keeping the show going, leaving her long term characters fading into mediocrity.
There was a time when Rhimes managed to make me cry nearly every episode, and now, I can barely stay awake for the show let alone enjoy it. Why?
The bottom line is all the characters (and actors) that made this show great have left, leaving Grey's Anatomy as a shell of its former self. Derek, Christina, Sloan… the list goes on. Without them, the show is nothing more than a frantic effort by ABC to throw in gratuitous diversity and half-assed portrayals of strong woman. I want the messy Meredith back who used to dance on kitchen tables and fight to the end of the Earth for her friends and her family. I want the deep, honest portrayals of friendship that made me want to be doctor just so I could bond with someone like that. I wanted to be the third Twisted Sister and now I sit on my couch and watch Amelia argue with Owen which is honestly as captivating as watching paint dry.
I am stuck with characters like Maggie, who seems like a sub-par replacement for Lexie, and Jo who can't quite pull off the doctor with a past story line they have thrown together this past season. And worst of all, I am stuck with the new hospital administrator coming for Richard's job: Eliza Minnick. She isn't even worth an explanation.
The whole season seems to be thrown together without feeling or emotion behind the scenes, with dramatic music and momentous build up to climaxes that seem entirely anti-climactic. So, at this point, I am sitting through 45 minutes of background noise in the hopes I will see a glimpse of the once great show I used to love, or at least a spotting of Meredith's kids (who seem to leave their toys everywhere but exist only in the abstract).
I wanted so badly for this show to last forever. But, watching the two most recent episodes,which were supposed to be devastating but seemed to only be a semi-formed attempt to throw Grey's Anatomy back into its classic tearjerker mode, I realized that the Grey's Anatomy that I have faithfully watched for years died a long time ago. Even the once great actors in this show like James Pickens Jr as Richard Webber and Ellen Pompeo as Meredith seem to only be going through the motions for their next paycheck. And, if I am being honest with myself, the last good episode was the last appearance of Patrick Dempsey as Derek Shepard (living appearance at least).
And so, with deep remorse, I find myself saying goodbye to my once beloved Seattle doctors and getting out before I can witness their painful descent into the pile of has been shows that went on passed their expiration date.