James Chen remembered at McLean-Langley basketball game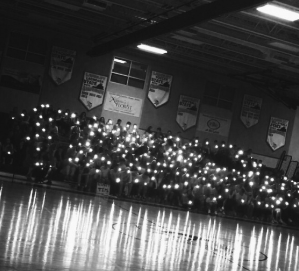 Hang on for a minute...we're trying to find some more stories you might like.
On Tuesday, January 31, the McLean Highlanders took on the Langley Saxons in girls and boys varsity basketball. This game was one of the many intense McLean-Langley rival games, but this time all had heavy hearts from the very start of the game. Dressed in pink, McLean joined Langley to honor a fellow Langley student's life lost January 27. This served as a reminder that even though the two schools may be rivals, we are always one community.
"The amount of support and love spread by his friends and family as a result was breathtaking," said Langley sophomore Mark Bosset.
James Chen was a valuable member in the singing and performing at both Longfellow Middle School and Langley High School; he also competed in Science Olympiad and won the Virginia Science Olympiad title in 2016.
"He loved chorus and was a natural born performer. When he wasn't wooing everyone in the crowd, he was hard at work constructing planes or studying for science olympiad competitions." said Bosset.
After the end of the varsity games, the lights were turned down in the gym and the room went silent. Because it was hard for Chen's friends to speak out about the loss of their friend, it was decided that a song would be dedicated to him instead. Students in the gym turned on their phones' flashlights to make an awe-inducing view, while "See You Again" by Wiz Khalifa was played.
"The memorial was beautiful," McLean sophomore Shannon Stockero said.
It was an emotional time for all students; the experience was extraordinary and surreal. Both Langley and McLean got to remember James Chen as a family together. Even for those who didn't know Chen, the memorial made a lasting impact.
"Although I didn't know him personally, it was wonderful to see the togetherness of the community with the rivalry between the two schools set aside," Stockero said. "Our schools are there for each other in a time of need, and I think that is very important."
The memorial was a powerful way to celebrate Chen's life, accomplishments, and passions.
"I've never seen a person more optimistic than James. I have never seen him mad or upset; he was always smiling and picking me up when I had a bad day," said Mariane Auza, McLean student and former classmate of Chen.
James Chen will always be remembered as a true performer, student extraordinaire, and amazing friend who touched every soul that knew him.
"On top of his genius and talent, he was kind and always gave people his attention," Bosset said. "People like James are incredibly rare."