McLean UNICEF Club holds donation drive
Club holds drive to provide winter clothing for local Afghan refugees
McLean's UNICEF club held a winter clothing donation drive for Afghan refugees this week. Following the United States' withdrawal from Afghanistan earlier this year, thousands of Afghans came to the U.S. as refugees, many staying in Virginia. Starting Nov. 15, the club placed a box near the entrance to the activities office to collect winter clothes for Afghan refugees.
"We're organizing a drive of general goods…we'll have some bins around the school to collect items," student government sponsor and leadership teacher Cameron Keuning said. "[The goal] is to simply help as many people as we can."
The drive was the brainchild of sophomore Sarah Soltani. In a conference that took place in Soltani's Journalism 1 class, principal Dr. Ellen Reilly mentioned the issue of Afghan refugees. "The whole situation in Afghanistan came up…I was wondering if there was a way we could help out," Soltani said. "[Dr. Reilly] offered the solution of a donation drive."
Reilly wanted to hold a donation drive, but not one orchestrated by teachers and other staff.
"Teachers come to me to do this, but collecting should be student initiated and led," Reilly said. "I already have boxes ready, somebody just needs to do it."
Soltani initially wanted to organize the drive through the McLean UNICEF club since she is the founder and president of the club.
"UNICEF doesn't actually accept non-monetary donations because of the hassle of processing, so we had to [partner with a different] local organization," Soltani said. "We [partnered with] the…Afghan Youth Relief [Foundation.]"
Soltani and the UNICEF club also received help from the Leadership team, which worked with the Afghan Youth Foundation to organize the drive.
Mr. Keuning, the Leadership teacher, emailed the [Foundation], and we worked it out," Soltani said.
The club then advertised the drive, which ended Nov. 19. Keuning believed the drive was an inspiring reminder of the real actions students can take when they want to make a difference.
"It's always important to do one's part to help out somebody who needs more," Keuning said. "To see it happening at such an age is even more encouraging because I know it's not going to stop as soon as high school's over."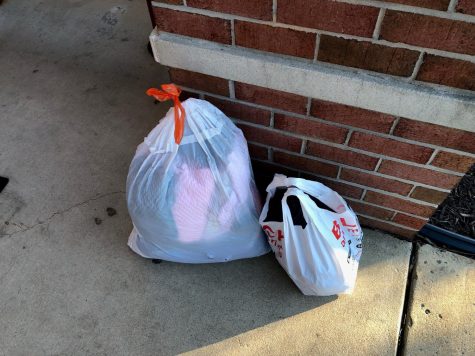 Leave a Comment
Your donation supports the McLean High School's independent, award-winning news publication.