Voters voices will be heard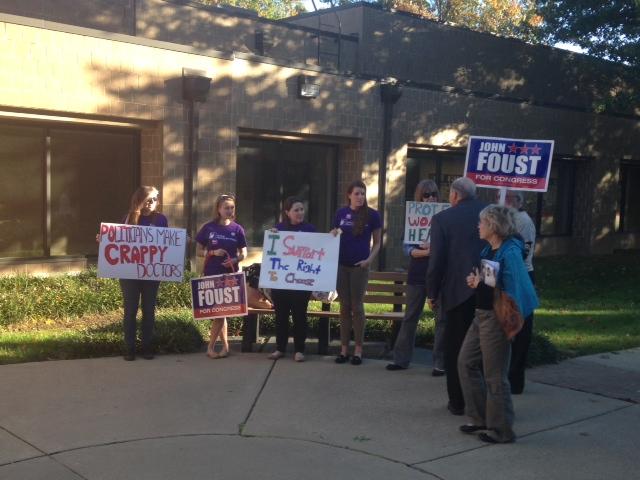 Congressional house hopefuls Barbara Comstock and John Foust–Republican and Democrat, respectively–met on Sunday, Oct. 26 at the McLean Community Center for their final debate before the midterm elections on November 4th.
The candidates were each given an opening statement to set the tone of the debate. Both candidates immediately set their position as bipartisan. "I am the only candidate in this race with bipartisan results" said Comstock, while Foust claimed that  "Nothing is more important in Washington today than bridging the partisan divide. We have a congress that is broken. The bottom line is there is hyper partisanship in Washington,"
The candidates also established their political platforms. "My priorities will be getting people back to work, repealing and replacing Obamacare, and reinvesting in our military," said Comstock.
"My goal for congress is to grow the economy and create jobs so that more families have the opportunity to live the American dream…I will work to improve education at all levels, including expanding early childhood education, and making college more affordable," said Foust.
The moderator then began asking audience questions, giving each candidate 2 alternating chances to reply.
A hot topic was how the candidates would treat federal employees, since the government shutdown affected the many federal workers that live in Northern Virginia. "I completely oppose shutting down the government and believe it's important to have a strong voice saying 'no' like [Frank] Wolf did," Comstock said, citing Frank Wolf as an opposer of the government shutdown, even though he voted with many republicans on bills that would continue the shutdown up until the very end of the crisis.
Throughout the debate, questions were asked from many different subjects, varying from Ebola to immigration reform. However, one common theme was the audience's response to Foust's arguments. Comstock reporters repeatedly shouted out contradictions to Foust's statements, and applauded and cheered after Comstock made a particularly strong point.
Though the moderator repeatedly asked for there to be "no interruptions" to the candidate's speeches, Comstock supporters would not let the candidates speak in peace. The interruptions reached a climax during Foust's closing argument, when he asked the rhetorical question "can you trust Barbara Comstock?" and Comstock supporters shouted out "YES!" Afterwards, the heckling only intensified during Foust's closing speech.
It became so disruptive that several Foust supporters turned in their seats and told the Comstock enthusiasts loudly to "shut up" and to "please be quiet." One of the debate moderators,Sally Horn, had to stop Foust during a particularly heated round of heckling and have him start his closing speech over again, much to the outrage of Comstock supporters.
The debate itself was very even, with both candidates establishing their positions on hot-button issues such as the Affordable Care Act, immigration reform, and alternative energy sources. If one thing can be concluded, it is that the race for Virginia's 10th Congressional District will not be an easy win for either side, and whichever candidate triumphs will have both avid supporters and strong critics in McLean.