Principal looks forward to calling McLean home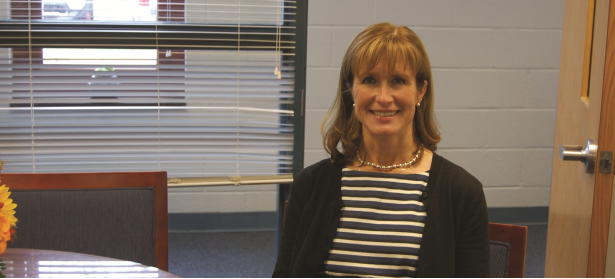 "This is my first interview," Principal Ellen Reilly said with a smile, sitting down at a circular table. Her office is not personalized quite yet—after all, this is only Reilly's third week as principal, and her days are filled with too much activity to take time to decorate her office space.
In addition to being McLean's new principal, Reilly is working on getting her doctorate, an exciting and somewhat daunting task for someone who just started a new job. Reilly sports a huge grin when talking about the focus of her dissertation, abilism. Abilism is the idea that people without disabilities should make changes to accommodate people who have disabilities, not the other way around. Despite her love of the subject, it supplies Reilly with a heavy workload.
"My weekends are now mostly focused on my doctoral work, so it's hard," Reilly said.
Virginia is Reilly's home state. At the age of 1, she moved to Munich, Germany, before moving back to Springfield, Va., where she grew up.
"It was your…all-American neighborhood, and my neighbors and I were all friends. We went out playing every day, we wouldn't come home till dinnertime, and it was great. I loved it. I was very fortunate."
Reilly went to West Springfield High School, an experience she also remembers fondly. Her favorite subject was history due to a wonderful teacher, one who influenced her so much that she ended up majoring in history when she went to college at North Carolina State.
After college, Reilly went to George Mason University where she got her masters degree in K-12 educational policy and leadership. Reilly began her educational career as an instructional assistant for a deaf classroom before becoming a deaf interpreter for an elementary school. She then went on to teach American Sign Language at Falls Church High School.
"[Going into the education field] is nothing that I intended to do, but once I started as an instructional assistant, I just really enjoyed working with the kids.
"I remember the first time I saw that challenge of having to teach a kid how to read, and who was deaf and they can't hear the word…it was like, how do you do this? But when they learn it, and you see that they learn it, it's like this little spark goes off in them, and it's so satisfying to watch that happen to so many kids. And that's what I enjoy," Reilly said.
Perhaps because Reilly likes working with students so much, she is enthusiastic about her new job at McLean. Above all, Reilly appreciates how welcoming everyone has been to her.
"It's a little overwhelming for me, 'cause I don't know a soul, and so walking down the halls it's nice to have somebody to say 'good morning' and all that. So it's been very nice so far. The PTSA and the parents have also been very welcoming."
Reilly, like any person arriving at a new school, is working to adjust to her new situation.
Regarding what she is looking forward to most, Reilly said, "Fitting in. Just trying to finally feel like this is where I belong. And just trying to understand everything. And just finally being able to come in one day and feel relaxed and be like, 'I know what I'm doing.' But right now, it's just learning so much. I'll probably be learning until the day I retire."