McLean Writing Center gets new start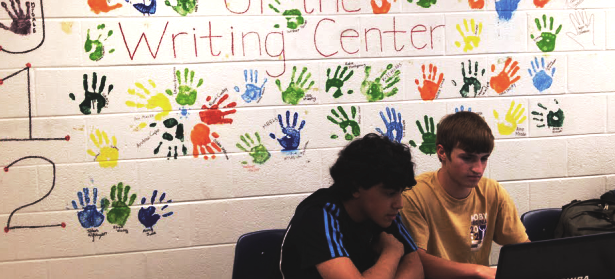 The McLean Writing Center, which opened for business Oct. 1, is getting a new start in its second year here as it acquires both a whole new set of writing tutors and a new teacher, Emily Love. Last year, English teacher Farris Gale oversaw the Center, which is still located in the Blue Hall where a colorful doorframe announces it to all passers-by. When Gale left to assume a different position in Fairfax County, a new position opened up here.Love just completed her masters in curriculum and instruction at Virginia Tech, in addition to working as the graduate assistant to the school's writing center. She has spent a great deal of time in the writing center environment and believes firmly in the importance of such institutions.
"I think they're so valuable," Love said. "Especially because I think that many students don't know about them until they're in college, and even when they're in college they don't know about them until it's too late, they're in desperate need, or they've gotten a bad grade on a paper and they don't know how to recover from it."
This year has seen the return of many students who took Advanced Composition (the course associated with the Writing Center) last year, as well as the arrival of many new students, with whom Love is having a positive experience so far.
"The students that I've had that are returning to the Writing Center were trained very well last year, so I'm really excited to be working with them," Love said. "The new students, who are going to be working for the first time, they seem to have a lot of enthusiasm.They seem to have had a really good experience with the Writing Center last year, and saw some things that they really liked, so I am coming into a place with a really excellent foundation and a good reputation and that's been a great blessing for me, to try some new things, but also to build off what was already there."
Some returning students, such as senior Allie Meade, feel that this may prove to be a transformative year for the Writing Center.
"Last year was basically just like the starting of it and we were kinda getting our feet wet and figuring it out, and this year I think we'll be able to structure it more and move things around and try out new things," Meade said.
New goals include arranging the room in a fashion that is conducive to tutoring and working with the tutors on developing tactics that are suitable, given the relatively brief timeframe in which they are able to work with students.
"Hopefully we'll have more people and the Writing Center will be maybe more organized this year," returning senior Amelia Meyer said. "I think Ms. Love is organized, and I think it could happen."
Love feels that the environment at McLean has been very supportive as she begins her first year here.
"I think one of the things I like so much is that this is an atmosphere where people appreciate learning and they actually seem to enjoy it—in all of my classes," Love said. "And so that's a really nice culture to be able to participate in where people are enjoying learning, they enjoy sharing ideas, and I think that's a lot of fun."