New workout app helps build McLean lifting community
Workout app "Teambuildr" has led to widespread use of the wieghtlifting room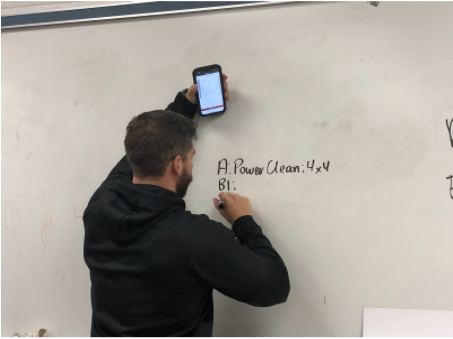 An increasing amount of athletic teams have begun using the weightlifting room for training. Much of this growth is due to Teambuildr, a workout organization app, which is helping strength and conditioning coach William West create more diverse workouts in the weight room.
The app allows West to post multiple workouts, complete with instructional videos, the amount of sets and the amount of repetitions that athletes have to complete for a particular workout. Although it may misconstrue the estimated weight a lifter could handle, it provides a recommended amount of weight tailored for the individual lifter.
"I like how Teambuildr keeps track of how much I lift," junior wrestler Cameron Calabro-Carroll said. "I use Teambuildr to help me progressively get better at lifting."
Teambuildr is attracting more and more student-athletes to the weight-lifting scene with its easy access and simple user-interface.
"Right now, there are about 460 [athletes] signed up on Teambuildr. In the past, it was probably around 250," West said.
To help with his organization, West began using the workout app to help reach out to more groups than just the football or baseball teams, who were once the main users of the weight roo
m. Teambuildr helps West organize workouts for the many different teams at McLean and tailor workouts to their specific needs.
"The best thing is that I can have 5 different programs going at the same time, I don't have to write one general workout for everyone," West said. "With anyone in here, I want them to be able to see the workout because it is different for some of the teams, and I want them to be able to track their workouts".
In the past, only a few teams went to the weight room regularly. Now, there are over 20 McLean teams being represented on the weekly schedule.
"It's a great program that lets students track their workout routines. It allows our coach to create custom workout routines for students," varsity football player Ryan Cook said.
Some McLean seniors have been lifting weights for several years, while freshmen are just beginning, meaning they need a series of lighter workouts so that they can slowly get stronger. The app helps athletes build up to more strenuous workouts.
"I think Teambuildr is a helpful app that keeps track of what I lift and how much I lift," Calabro-Carroll said.
Teambuildr has been a great addition to the many athletic programs at McLean, and it is sure to stick around for the foreseeable future.
View Comments (1)
Your donation supports the McLean High School's independent, award-winning news publication.