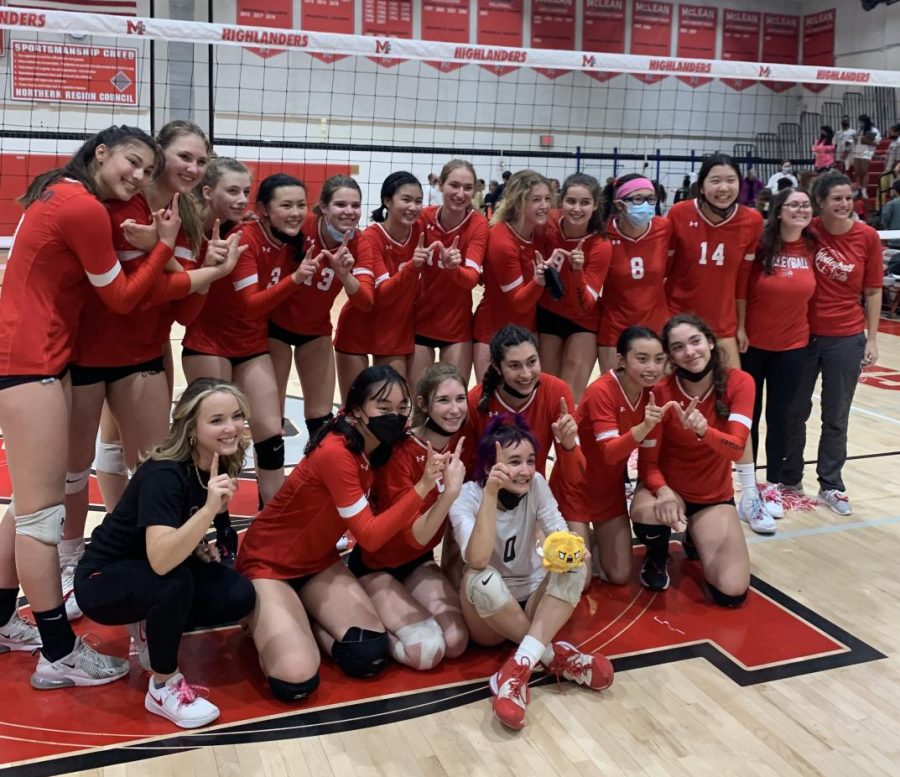 Kaan Kocabal
Final score: 3-2
After a 3-0 sweep in the regional quarterfinals against the Centreville Wildcats, the McLean Highlanders volleyball team was set to play the rival Langley Saxons in the regional semifinals, with a trip to the regional finals and the Virginia State Tournament on the line.
The Highlanders advanced to the state championships with a nailbiting 3-2 win for the first time in school history.
"I knew that we had the statistical ability to win this game, but every time you face off against Langley, they are such a mental piece to the puzzle," head coach Samantha Stewart said. "As soon as we started warming up and I saw how we were swinging, we were really connecting with one another. I knew all they had to do was stay focused and keep that faith in themselves, and they were [going to] do it."
McLean got off to a slow start, as the Saxons were able to control the court en route to a 25-10 trouncing in the first set.
"I just needed them to wake up. If you're gonna lose, you don't do it lying down and let it happen," Stewart said. "You stay focused, and you still give it your all."
After dropping the set, the players knew what they needed to do and started to get back on their feet. McLean dominated the second set, evening the match up with a 25-16 victory.
"After that first set, I was not willing to lose," senior varsity volleyball player Ella Park said. "We were not going to go down without a fight, and that set proved to be the turning point of the match."
With the match tied at 1-1, the 3rd set became very crucial. The student sections on both sides alternated cheers during a back-and-forth set which ended with a McLean victory, 25-21, and they needed only one more set to stamp their ticket to States.
"Winning that 3rd set had given me a sense of relief in that moment of the game," Park said. "We knew that being up would give us the confidence we needed."
The Saxons would not go down without a fight, taking the fourth set 25-18 to force a do-or-die fifth set.
Going into the fifth set, the tension in the gymnasium was palpable as fans from both sections raucously cheered on their teams. It seemed that the set would never end, as both teams alternated points. However,  McLean persisted, and they were able to pull off the victory as senior Nicole Mallus spiked down the winning point to give McLean the victory.
"We're going to states for the first time in school history, and this season has brought on two wins against Langley," Stewart said. "[This was our] first district championship in 20 years, and when we win on Tuesday, hopefully, that will be the first regional championship ever."