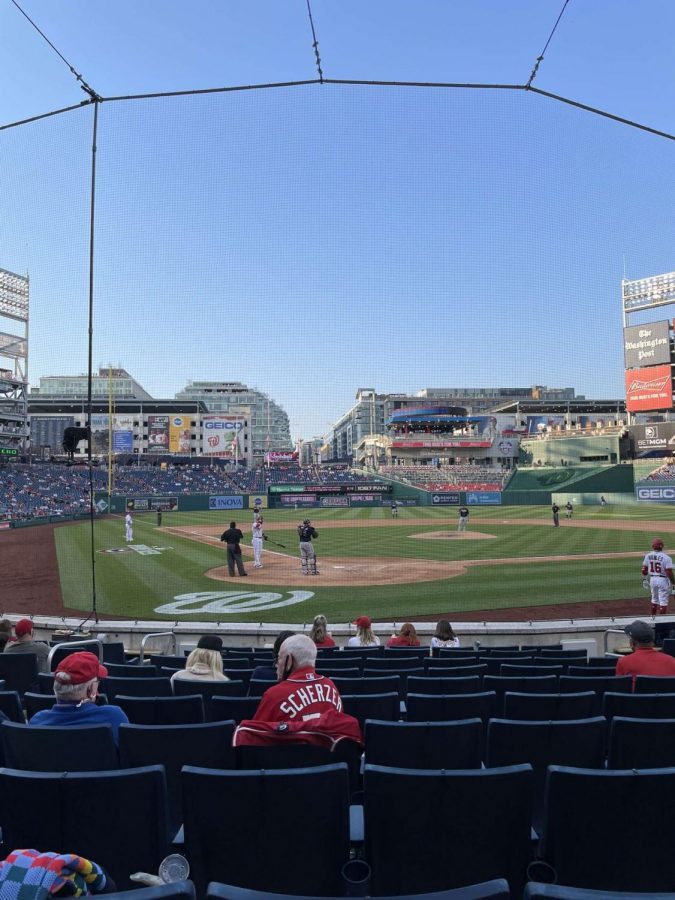 For the first time since the World Series win in 2019, Nationals fans were allowed in the stadium to watch Washington's home team win a game against the Atlanta Braves. The event was limited to 5,000 fans, but the energy was still there despite the masks and social distancing. 
Opening day was originally scheduled for Thursday, April 1st, but COVID-19 outbreak among the Nationals postponed the game until Tuesday, April 6th.
"I feel like it was unexpected for them to get the virus," junior Caden Hershberg said. "As professional players get paid millions of dollars, they should do better." 
Prior to the game, there was a ceremony where the Nationals raised the official World Series championship flag. The home team started the game behind the Atlanta Braves, as Max Scherzer, a strong starting pitcher for the Nationals, gave up a homerun on his first pitch of the game, and three more over the first three innings. 
However, the Nationals made a remarkable comeback and ultimately won the game 6-5, with a walk-off hit from Juan Soto. 
"I did not expect the Nationals to win after the Braves got four homeruns early on," Hershberg said. "Even though the Braves [usually] have a slow start to the season, their lineup has so much power and potential, so I didn't think we'd come back."
Fans expected Soto not to swing, because he had a 3-0 count, which made the hit even more spectacular. 
"I can't even believe the late innings with the noise and the crowd, it just made my heart go a little bit quicker," Juan Soto said in an interview with MLB. "It feels nice to feel that, and to be back on the field with the fans and everything. It's just an amazing feeling to play in front of a bunch of people that cheer for you."
This was Juan Soto's first Major League walk-off hit. A roaring celebration was heard around Nats Park.
"The kid's stepping up, he's our future and we need him to become a Silver slugger caliber player," Hershberg said. 
Unfortunately, the Nationals lost both games in the double header against the Braves the next day.
"I don't think we'll win the division, the Phillies have been looking good so far and the Braves will step up as well,"  Hershberg said. "We aren't what we were with Rendon and Eaton."
The Nationals opening day win was a huge step in the right direction, especially because the Nationals were missing nine players from their roster. One thing is for sure—this is going to be a challenging but hopefully successful season for the Nationals.