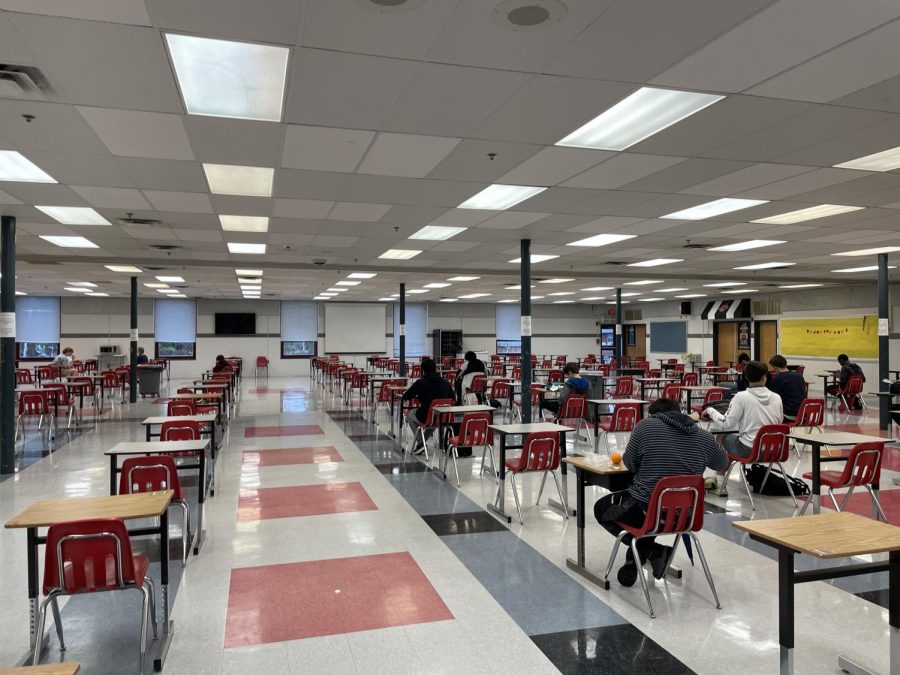 Maya Amman
Tuesday, Mar. 16, executive members of the Committee on Raising Student Voices (CORSV) met with administration to discuss the needs and suggestions made by students attending school in person.
"We discussed things like lunch, Highlander Time, difficulties in learning, and more," said junior Bella Demarco, Secretary of the Council for CORSV.
The Committee has voiced the needs of the student body and has worked closely alongside administration to change existing policies and practices throughout the school.
"We've been meeting since the pandemic hit, but the suggestions that they're bringing now are to help answer the questions, 'how do we get more kids to come back into school' and 'why are kids leaving the school to stay at home,'" Principal Ellen Reilly said.
The first issue proposed concerned Highlander Time; students complained that sitting in one room for nearly two hours was uncomfortable for both students and teachers. The solution was study pods, which would allow students to sign up to sit in an empty room with up to ten other people for Highlander Time rather than staying in their second periods.
"We'd have a wing for the seniors, juniors, sophomores and freshmen but then we'd also have a section for a quiet room so people can go to that quiet room and just study," Reilly said.
Many people also found lunch time difficult to enjoy because of the lack of social interaction structure of the cafeteria. The solution the committee found was to allow students to eat lunch in their cars.
"None of my friends are in either one of my lunches, so I am extremely glad that I can get some alone time in my car," junior Macey Johnson said. "I also feel a lot safer in regards to COVID."
Another significant issue keeping students from attending in-person school is testing.
"The concern that [the CORSV is] hearing from students is that there's no testing equity," Reilly said. "A math student at home is going to get the same test as the person at school and nobody's really monitoring what's happening at home. While we would hope that everybody is being honest, an assumption is that they're not."
Testing is a more difficult issue to tackle, as it affects the grading system of the entire school. Teachers cannot rely simply on a student's integrity as a factor to decide whether or not to test asynchronously because the odds are that some students at home are breaking the honor code.
"The hope is that teachers would be more open to saying, 'here's the test or quiz on Monday, and now turn it in on Wednesday, so you have the time to sit and do it either individually or sometimes work in collaborative groups, and you as a group would work on it in turn that in,'" Reilly said.
The main goal is to get as many students as possible to return to school in-person and return the learning environment back to normal. With more people in-person, morale and motivation could increase among students in the building.
"It's not that we're condoning cheating, we want to promote learning," Reilly said.
Communication between the administration and CORSV will continue as in-person learning progresses.
"Dr. Reilly and the administration were really awesome and receptive to what we are saying," Demarco said. "If anyone has something they feel could be improved they should reach out to CORSV."