Warped Tour returns to Merriweather Post Pavillion
Hang on for a minute...we're trying to find some more stories you might like.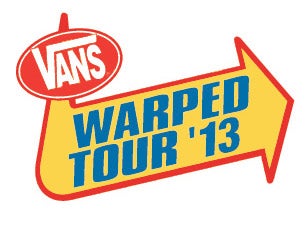 This July 10th, Vans Warped Tour will be making its annual return to Merriweather Post Pavillion in Columbia, Maryland.  A single day music extravaganza set at the peak of summer, Warped Tour promises an unforgettable experience for its attendees.  Throughout its 19-year-long history, Warped Tour has consistently attracted thousands of fans each year with its rich rock-oriented lineup and unique atmosphere.  Vans has set up this summer's Warped Tour to even more successful than its predecessors, featuring many new and returning artists as well as newly introduced concert fixtures and improvements.  This summer, depending upon taste and preference, Warped Tour could definitely present a concert option worth looking into.
LINEUP
Warped Tour has once again impressed with its extensive lineup.  This year, 10 stages will present over 90 bands, ranging from the obscure to well-known and covering an impressive spectrum of music genres (from Reggae to Rap and Folk to Post-Hardcore, with an obvious emphasis on Rock and rock subgenres).  Showcasing notable bands like 3OH!3, Reel Big Fish, Black Veil Brides, Nevershoutnever!, Forever the Sickest Kids, Mac Lethal, The Black Dahlia Murder, Outasight, The Used, Motion City Soundtrack, Sleeping With Sirens, Story Of The Year, Bring Me The Horizon, Wallpaper., Chiodos, Memphis May Fire, Crown The Empire, I See Stars, We Came As Romans, Woe Is Me, Architects, blessthefall and more, the Merriweather Warped Tour lineup promises something for almost everyone.
FULL LINEUP, ORGANIZED BY GENRE:
Ska (Reel Big Fish, Big D And The Kids Table)
Reggae (Lionz of Zion)
Folk (Austin Lucas, Brian Marquis)
Alt-Rock (The Used, Anarbor, Go Radio, Hands Like Houses, Hawthorne Heights, The Early November, Art of Shock, William Beckett, Vinnie Caruana)
Indie (The American Scene, Citizen, RDGLDGGRN)
Indie Rock (Motion City Soundtrack, Echosmith)
Indie Pop (Nevershoutnever!, Allison Weiss)
Pop (3OH!3, GOLDHOUSE, Action Item, Alvarez Kings, Allstar Weekend, Driver Friendly, For the Foxes, Set It Off, The Summer Set, Young London)
Pop Punk (Forever the Sickest Kids, Emily's Army, Forever Came Calling, Handguns, Man Overboard, The Story So Far, The Wonder Years, Tonight Alive)
Punk (Bangups, letlive., Middle Finger Salute, Mighty Mongo, Strawberry Blondes, The Chariot, TheCityShakeUp, The Swellers)
Metal (Black Veil Brides, The Black Dahlia Murder, Bring Me The Horizon, Attila, August Burns Red, Crossfaith, Oh Sleeper, Stick To Your Guns, Upon A Burning Body, Volumes)
Hardcore (Memphis May Fire, blessthefall, Like Moths To Flames, No Bragging Rights, While She Sleeps, Woe Is Me)
Post-Hardcore (Sleeping With Sirens, Story Of The Year, Chiodos, Crown the Empire, Secrets, Silverstein, The Amity Affliction)
Metalcore; Electronicore (We Came As Romans, Architects, I See Stars, New Years Day)
Rap/Hip-Hop (Mac Lethal, Outasight, Wallpaper., Itch, Madchild, MC Lars)
Electronic/EDM (Run DMT, Big Chocolate, Crizzly, Five Knives, Stephan Jacobs, Shy Kidx)
Various Singer-Songwriters (Gin Wigmore, Juliet Simms)
EXPECTATIONS

As veteran Warped Tour fans, this summer there are several things we are excited to see and several things we are hoping to avoid.
One festival attraction we are definitely looking forward to are the Warped Tour's sponsored tents. Record labels like Fueled by Ramen, fashion brands like Neff, non-profit organizations like To Write Love On Her Arms and others all have tents that sell the usual merchandise like t-shirts, bracelets and posters. However, the best tents are those that hand out free promotional items like sunglasses, posters, hair products, stickers, or sometimes even a pair of denim jeans.
We are especially eager to see their increased effort to prevent concert-goers from overheating. This year they are providing shade areas, misting stations, free water refilling stations, and even a slip and slide.
Evidently, the creators of Warped Tour want to make sure that people will not only have fun time but also a safe time at the festival. Their huge concern for safety is mostly due to the fact that a huge part of Warped Tour's target audience includes pre-teens who are usually less than experienced when it comes to concerts. The festival is going as far to provide special tents for overprotective parents called "Reverse Daycare".
In addition to being overrun by mobs of scene 12 year olds, Warped Tour is usually very crowded and has terribly long lines. However, these troubles can certainly be avoidable by planning ahead. Take advantage of the multi-stages and different set times and make a schedule with the bands you want to see.
All in all, we expect this year's festival to be a summer day filled with sweaty, mosh pit fun.