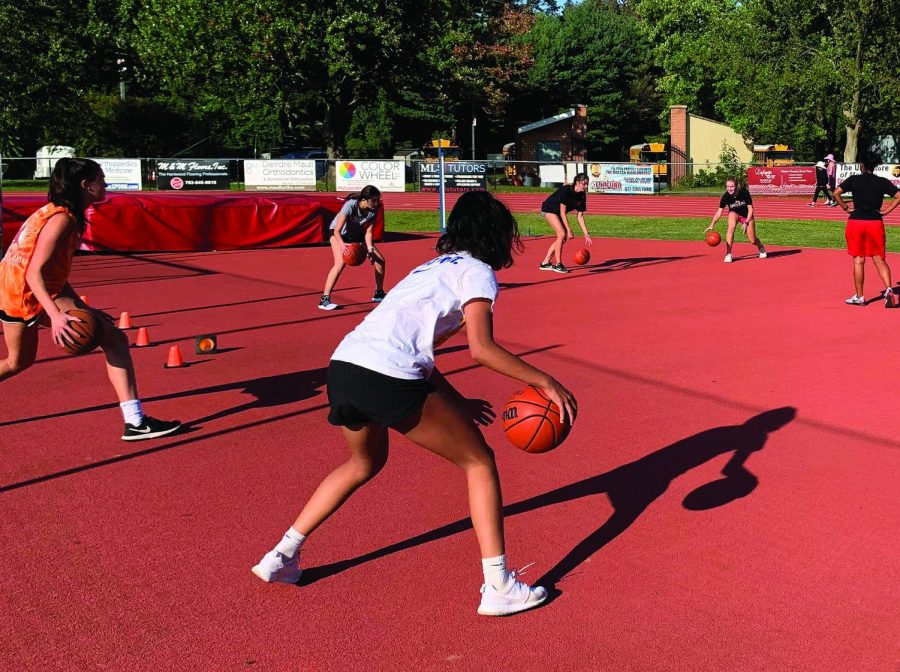 Jen Sobota
You're on the basketball court of the Langley vs. McLean game. There's 15 seconds left, so you scream "I'm open!" to the teammate who has the ball and clearly needs help. They pass it to you, you dribble past the other team all the way down the court, take your stance on the 3-point line, shoot and then—beep beep beep—your alarm clock wakes you up from a night's rest. You quickly realize that the only way you can play sports right now is in your dreams.
With most sports involving close physical contact, players are not able to practice the way they did before the pandemic.
"[The pandemic] has definitely slowed down the pace we usually learn at for sports," said sophomore Layla Bizri, who planned to try out for the JV girls basketball team.
Coaches have experienced the same setbacks as a result of COVID-19 restrictions. Trying their hardest to work around the social distancing guidelines in order to get practice time in, coaches want to ensure their players aren't rusty at the beginning of their delayed seasons.
"Our season won't start until December this year, and we will play on a shortened schedule. We are allowed to hold yellow and green days, which has made it difficult to do typical drills that we use to improve our skills," girls varsity basketball coach Jen Sobota said.
Although FCPS has allowed the reimplementation of green and yellow out-of-season practice and conditioning days into the athletic schedule, several restrictions have been put in place in an attempt to slow down the spread of the virus.
"There are a number of restrictions as far as how many [athletes and players are allowed] in each group, social distancing restrictions while working out and limited use of equipment during the workouts," Sobota said.
Sophomore Josh John, who played on the freshman boys basketball team and varsity tennis team, thinks it is completely fine for McLean to continue the sports seasons as long as restrictions are in place.
"I think if everyone wore masks and we socially distanced a little bit, it would be safe enough to go back," John said.
Sobota has mixed feelings about going back so soon.
"I have to admit that I go back and forth with how I feel," Sobota said. "Basketball is a physical sport by nature. There is a lot of close contact, and I think that makes it difficult to follow a lot of the recommendations and restrictions that are in place. I think if the numbers are good and the safety of everyone involved is not compromised, then I would be comfortable."
In order for sports to return, it would be necessary for athletes to follow the social distancing guidelines that have been put in place.
"I don't think the players will follow the safety precautions if we were to have sports back because many students already don't care and don't realize how big of a deal the pandemic really is," Bizri said.
Nonetheless, Sobota is optimistic about a possible season this year.
"In the experience I have had with our workouts so far this year, I have been happy to see that students are following the safety precautions that are in place," Sobota said. "I think they need to be reminded, but I think a lot of students are excited to be able to have these workouts and would hopefully be willing to stick to the precautions if we are back."
The coaching style in this situation is different, which will take some time for everyone to adjust to.
"I think most coaches would agree that the lack of authentic interaction that you are able to have with your athletes has made it difficult as a coach right now," Sobota said.
Because the interaction between the coaches and players is different now, some worry the players will slack off until their seasons actually begin, but not Sobota.
"I think the pandemic may have the opposite effect. I think once some of the restrictions are lifted, players will be eager to get back into the sports the way they used to be," Sobota said.
After months of canceled events, some students aren't hopeful about the possibility of sports resuming this year.
"My guess is next year sports will be back to normal," John said. "And we will be able to watch the games like we used to."