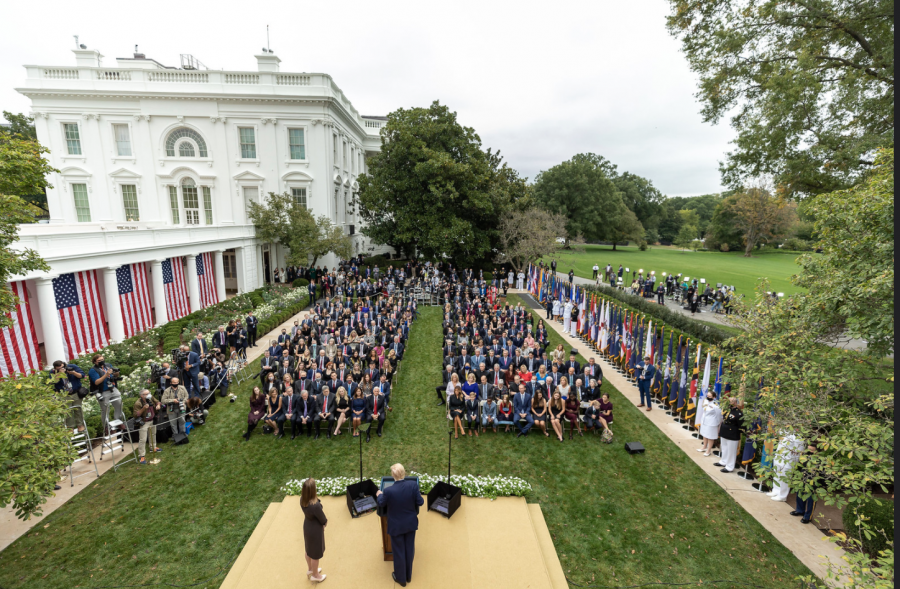 (Image obtained via The White House on Flickr under a creative commons license.)
On Oct. 2, Trump emerged from the White House in order to  announce that he had been diagnosed with COVID-19, along with many of his staff members and his administration. He then awaited a helicopter to transport him to Walter Reed hospital, to be cared for during the couple of days to come. At least 17 cases of the virus can be linked to the Trump administration or the White House including Trump's campaign manager Bill Stepien, former counselor Kellyanne Conway and the White House press secretary Kayleigh McEnany.
Oct. 3 shed a new light on the fear instilled in many Americans as Trump stated that he was "starting to feel good", but  was then replaced with confusion as his doctors contradicted his words and themselves.  Dr. Sean Conley, followed by a team of doctors addressed the media saying that Trump had been fever-free and had very mild symptoms, but when asked by reporters if Trump had been supplied with supplemental oxygen, Conley simply replied that Trump was not on supplemental oxygen that day.
I will be leaving the great Walter Reed Medical Center today at 6:30 P.M. Feeling really good! Don't be afraid of Covid. Don't let it dominate your life. We have developed, under the Trump Administration, some really great drugs & knowledge. I feel better than I did 20 years ago!

— Donald J. Trump (@realDonaldTrump) October 5, 2020
Although it is unclear how Trump contracted the virus, it is under suspicion that this outbreak of COVID-19 generated from the gathering hosted at the White House Rose Garden with the purpose to celebrate Judge Amy Coney Barrett as Trump's nominee to fill the the supreme court seat that was recently made vacant after the passing of Justice Ruth Bader Ginsberg.
On Oct. 4, Trump temporarily left the hospital with his security detail to wave at his supporters through the window of his S.U.V. while wearing a mask. Conley also admitted to omitting certain information about Trump's healthcare sparking even more confusion on the president's well being.
Tonight, Oct. 5, Trump returned to the White House to continue his recovery, denying the severity of the disease to his supporters and on his Twitter.
"Don't be afraid of Covid. Don't let it dominate your life," Trump wrote.