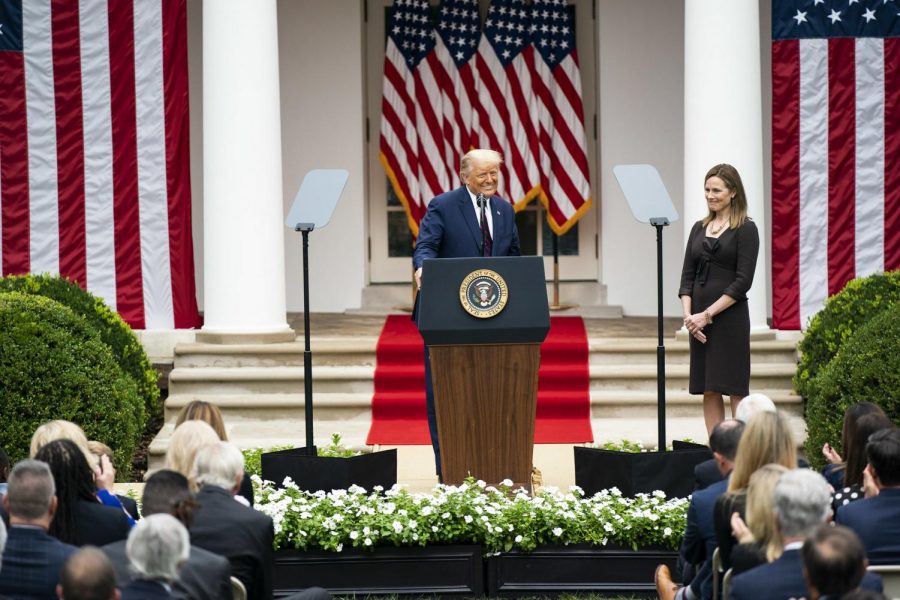 Amy Coney Barrett was announced by Trump to be his pick to fill Ruth Bader Ginsburg's spot on Sept. 26.
Barrett has different ideals and political affiliation than RBG, which would cause a shift to a conservative bias in the Supreme Court. The court was already majority right, with five conservative-leaning justices and four liberal-leaning justices. With Ginsburg's passing, a large liberal icon and women's rights advocate, the conservative Barrett will cause the court to be 6-3 in favor of conservative views.
Barrett is a former law professor and was inducted into the federal appeals court three years before by President Trump. She is also a devout Catholic, which is a source of controversy, as some people are concerned her religious beliefs may interfere with her job in serving justice.
Despite this, Barrett promises that if given the spot, she "would not assume that role for the sake of those in [her] circle, and certainly not for my [her] own sake. [She] would assume this role to serve you."
Another potential polarizing factor in Barrett's potential nomination are her views on abortion, the Affordable Care Act and guns.
Many women may be upset about this nomination due to these views that she holds.
"As a female, I think our reproductive rights are very much at stake. Not only the right to choose, but also access to birth control, STI testing, and affordable treatment," junior Campbell Al-Khafaji said.
Straight men seem to be less disgruntled about the nomination, due to Barrett's ideals having less of an impact on their demographic.
"As a cisgender white dude, I doubt my life will be particularly affected. However, given her extreme stances on abortion and marriage equality, a lot of Americans are rightfully concerned that they may lose freedoms they've only recently gained," junior James Ross said.
Barrett and her husband have seven children together, including two children adopted from Haiti and one young son with Down Syndrome. People on both sides of the political spectrum vouch for her character and her intellectual prowess.
Judge Amy Coney Barrett is a consummately qualified jurist who has proven on and off the bench that she has the decency, the intellectual rigor, and the fundamental respect for our country and its Constitution to serve honorably on the Supreme Court. pic.twitter.com/5WKAHovqds

— Senator Mike Braun (@SenatorBraun) September 30, 2020
Despite all the buzz, nothing is confirmed yet as it is still undecided whether Trump can induct Barrett into the Supreme Court with the upcoming election at hand.