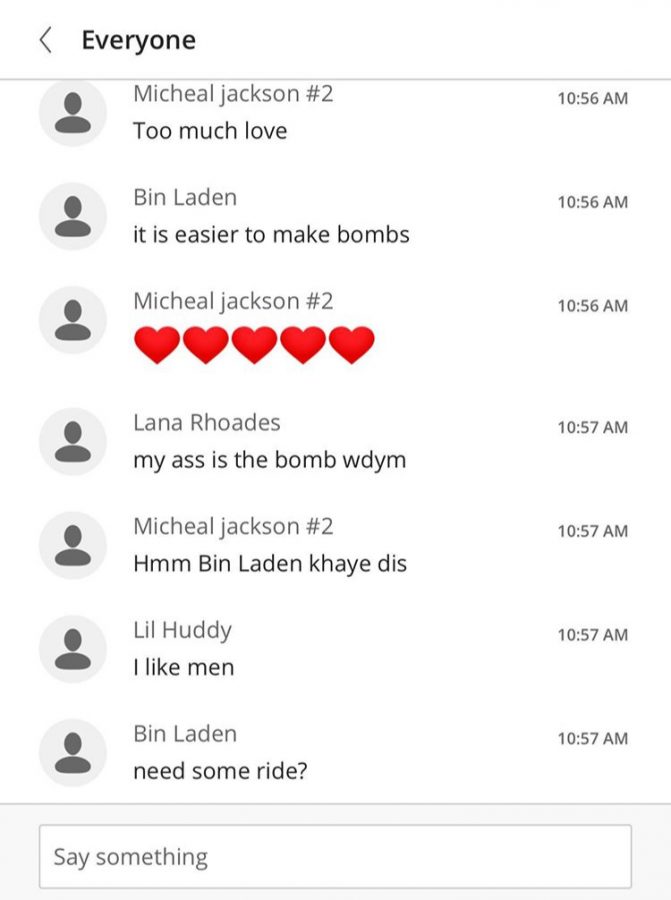 McLean High School teachers met at 10 a.m. today to prevent further misuse of Blackboard Collaborate Ultra following reports involving the platform yesterday. Because of the reports, Fairfax County was forced to cancel today's online learning for middle and elementary school students.
The evening of April 14, Donald Vivacqua's drivers' education class was interrupted by many users, possibly bots, who sent messages and had usernames that harassed the teacher and other students. Two members of the class reported that the teacher ignored the spam and continued the lesson as normal, but that an assistant principal joined later.
"Neither Mr. Vivacqua nor Mr. Vigil made a direct response to all of the students that changed their usernames several times," sophomore Yanni Aknine said. "It became very annoying as students kept on changing their usernames and practically bullying other students. Some [people] believe that doing it is really funny and will make others happy, [but] in reality it got very out of hand and was incredibly rude."
A user who was not part of Anna Caponetti's third period English class joined and made minor, non-offensive remarks at the beginning of class. Soon, discussion was interrupted by loud music with sexually explicit lyrics emanating from the unrecognized user's microphone. After he was removed from the room, another user joined and began screaming. The teacher removed the user, but he continued to return, sometimes with inappropriate usernames, like an emoticon depicting male genitalia.
"At first the comments [that the initial user made] were just little dumb remarks so I just thought it was someone in the class having a bit of fun or that the person was in the wrong class," said sophomore Erin Sharpe, who attended the class. "When the stupid comments turned into outright disruption that stopped the entire class I got very angry…I am very impressed at how calmly our teacher handled the whole thing."
Sharpe hopes the county identifies those who disrupted the class and properly disciplines them.
"I think for all of us life is difficult right now. I don't want to say that as an excuse for them but maybe boredom or frustration with [quarantine] caused them to do that," she said. "I'm really ashamed as a member of the student body that we are putting our teachers and administrators through more struggles."
Reports of abuse were not contained within McLean High School; a Langley High School math class was bombarded with usernames harassing staff members and vulgar chat messages. Teachers at all grade levels also reported incidents.
Principal Ellen Reilly addressed the incidents in a message to the community and announced that classrooms throughout the county would be secured to allow only certain users to join starting Thursday.
"I want to apologize…for the behavior that some students experienced yesterday during their class time. For the most part, teachers connected with students and the class went smoothly," Reilly said. "We are adding these extra measures today so that students can learn synchronously in a safe environment."
Office hours for teachers today have been moved back to accommodate for the morning meeting and are by email only. Students should receive an instructional video guiding them on how to join secured Collaborate classes between 3 and 4 p.m. today.