Almost daily sanity check with Kara Murri
Day 39/ April 20th-
And we're back. It has been so long since I last wrote because I've had a bad case of writer's block and some intermittent quarantine blues. So with zero creativity and zero motivation, I just really didn't want to update this page. But this is a new week, and I'm hoping to revamp my creativity somehow. It has now been well over a month of social distancing and almost complete isolation. I only go outside to go on walks or runs. I fill my day with some school work, Mario Kart, reading, painting, Gilmore Girls, etc. but I can't figure out how weeks have passed and I feel like I've gotten nothing done. I take my time to get ready in the morning and get ready for bed at night. When I'm not distracting myself, I let myself think, which is sometimes nice. But it's harder than you think to keep in contact with friends. FaceTime and Zoom and texting and Snapchatting don't really cut it. I want to see my friends face to face. But for now, virtual stuff has to suffice. The things I most look forward to every day are breakfast, lunch, and dinner. I'm going to get back to updating daily (hopefully), so stay tuned.
Am I sane? I would say I'm semi-sane.
Day 21/ April 2nd-
Sike! There's no happiness graph for today because I forgot about it and then was too lazy to make it. Maybe tomorrow, no promises though.
My extended family has started an exercise competition, so that's pretty exciting. We're splitting off into teams and you try to get as many minutes/hours of exercise that you can. If I don't have a six-pack by the end of this competition I'm gonna be very disappointed.
It was SO nice outside so I went for a walk with my sister and we saw a surprising amount of people that are still doing soccer practices, tennis lessons, etc. Some people weren't even six feet apart! That was very disappointing. On a good note though, I did some of my AP US History reading today, which takes forever, but it felt good to get stuff done.
Skill of the day: Lasting more than 20 seconds without falling off Rainbow Road on Mario Kart.
Am I sane? Yep.
Day 20/ April 1st-
April Fools came and went with zero pranks in my household. Don't get me wrong, I'm not a huge fan of pranks. But for some reason, the absence of jokes was disappointing. Zoom calls for church activities came to the rescue, once again.
Favorite minute of the day: 11:10 PM, when I got an immense rush of productivity and energy. I cleaned my bathroom, bedroom, tidied up one of my drawers, and wrote down a to-do list for the next day.
Today's level of happiness had a slope of about 3, for all you math geeks out there.
Am I sane? The answer is still yes.
Stay tuned for tomorrow's annotated graph "Kara's Happiness Level Over Time" for how Day 21 went.
Day 17/ March 29th + Day 18/ March 30th + Day 19/ March 31st-
All of the days pretty much blend together now. I have actually felt at least semi-productive the last few days. Sunday was the best day I've had in a while. I had two bowls of Fruity pebbles on the 30th. That was pretty exciting. And the 31st was my younger brother's birthday! I took that as an opportunity to play too much Mario Kart and eat too much cheesecake. I've decided that when in quarantine, every day is cheat day. I promise to have more pictures soon.
Big news since I last wrote: we are officially on a "stay-at-home" order until June 10th! Governor Northam is not my favorite person at the moment, but I am happy that he is taking public health seriously.
Am I sane? Yeah. Will I still be sane by June 10th? Highly unlikely.
Day 16/ March 28th-
Guess who slept in today?? I did. Instead of waking up at 7:00 as I have been for the past week, I woke up at 10:00. I felt extremely rebellious. Other than that moment of rebellion, today felt monotonous. I felt utterly unproductive because, well, I was utterly unproductive. At this moment, I can't even bring myself to be concerned about my grades and optional assignments, etc. etc. Starting Monday, it is going to be full school mode. Or at least that's what I'm telling myself.
Highlights of the day: Fruity Pebbles and Cookies and Cream ice cream
Am I sane? Not sure.
Day 15/ March 27th-
Pretty average day. Sorry, this will be kinda dry. I read a whole book, took a nap, worked on my paint-by-numbers, and watched some Gilmore Girls and a movie, etc. etc.
Scary thoughts: Am I basically a senior now? Being a senior means figuring out scholarships, college recs, applications, personal essays. Maybe being a junior isn't so bad.
Am I sane? Kinda.
Day 14/ March 26th-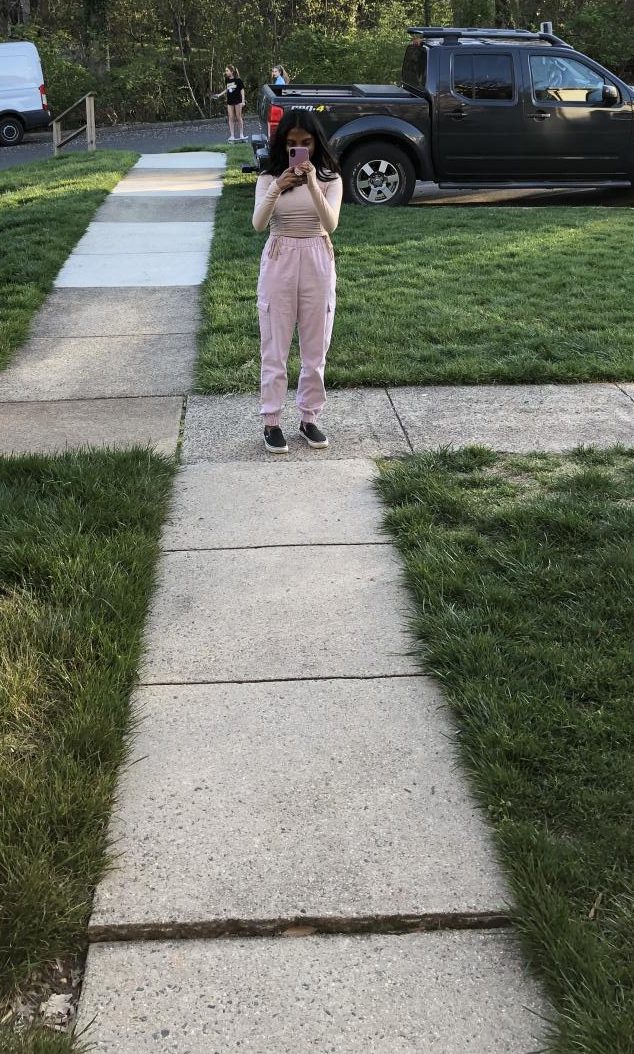 We are going to do an opinions session today.
Your opinion: Writing is boring.
My opinion: Surprisingly, I actually think that it's fun!
Your opinion: Reading is boring.
My opinion: Based on the fact I read for about 5 hours on Day 14, I believe it is actually a quite entertaining activity.
Your wrong opinion: You can't see your friends during this time.
My right opinion: Actually, a surprise visit from Swetha Manimaran proves that it is possible to both see your friend and follow safe social isolation habits. (pictured to the left). This surprise made my day.
Your opinion: My favorite ice cream is *insert ice cream flavor other than Cookies and Cream here*.
My opinion: During these trying times, my favorite ice cream is Cookies and Cream (not just because its the only option besides chocolate or vanilla). Cookies and Cream ice cream soothes my soul, and it is one of my main solaces.
Notable events of today: 1) I finished Season 1 of Gilmore Girls, 2) I got five peanut M&M's out of my family's gumball machine instead of the usual three or four, 3) I took an hour (ish) long nap, but I set my alarm for every 20 minutes because there's no better feeling than waking up and being able to go back to sleep.
Am I sane? Yes.
Day 13/ March 25th-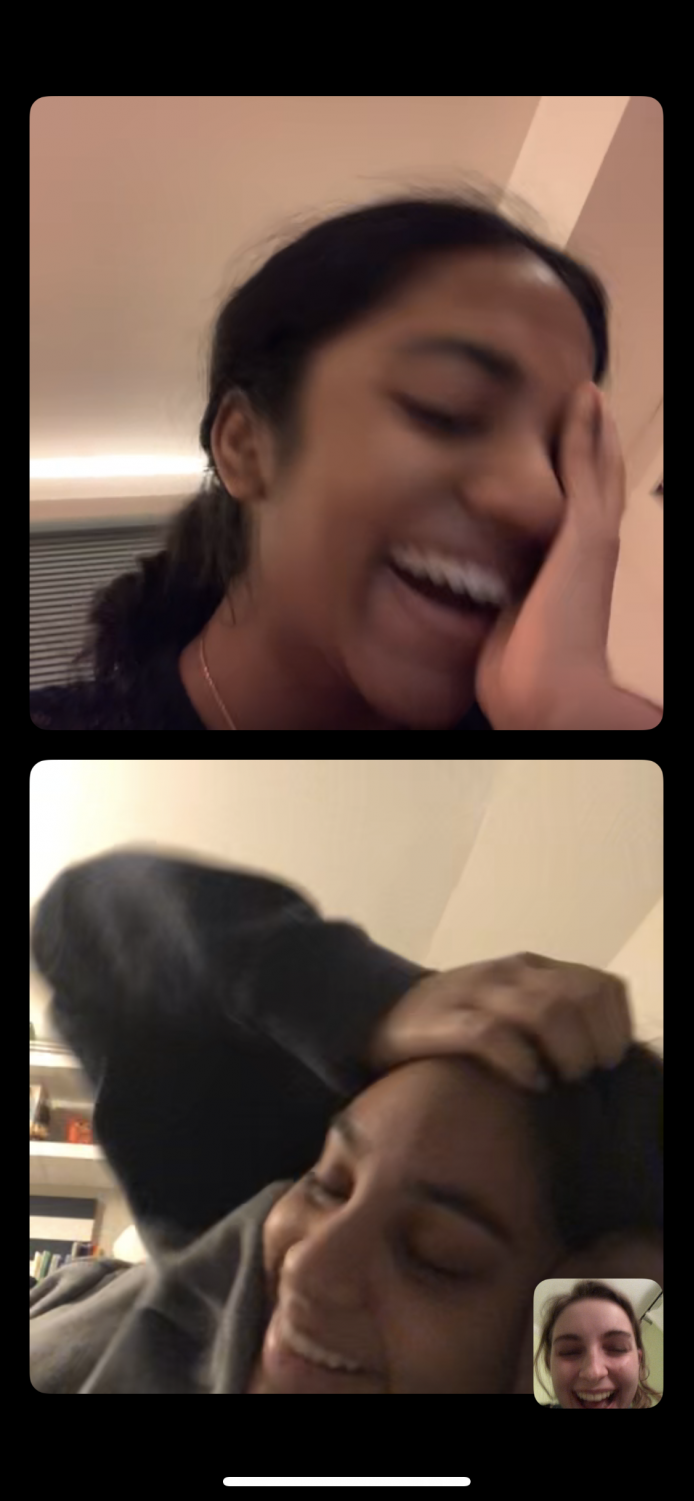 My favorite people of the day: Lia Vincenzo and Chad Michael Murray.
Lia Vincenzo because it was her 17th birthday! I dropped off a gift at her house and it was fun to see her face through a glass door.
Chad Michael Murray is my second favorite person because, well, it should be pretty obvious if you know who he is. Today I watched A Cinderella Story on Netflix watch party because IT IS LEAVING NETFLIX IN APRIL. Go watch it!!!! The anticipation before watching it and pure elation afterward singlehandedly kept me sane today. So thank you Hillary Duff and Chad Michael Murray, for being a part of such a beautiful piece of art.
Wacky opinion of the day: I don't like this weird limbo of vacation and school we're in. It usually leaves me feeling stressed and guilty. I wish we had pure vacation and then actual online school. I'm sure I'll miss this weird limbo after we actually start online school, but for now, I'm not totally in love with it.
Am I sane? Yeah.
Overall day rating: 8.56/10

Day 12/ March 24th-
I made some progress on my paint by numbers! It's harder than it looks. Gifts from heaven to earth during coronavirus season include Netflix Watch Party, Fruity Pebbles, Zoom calls, and cheesy romcom books where the normal girl from a small town falls in love with her undercover bodyguard/stalker who just so happens to be astonishingly hot.
Am I sane? Let's just say yes. Overall day rating: 19 out of 24
Current Gilmore Girls episode: Season 1 Episode 18
Day 11/ March 23rd-
It was my friend's 16th birthday today, so I dropped off some gifts at her house, and someone else was also there dropping off a gift. Don't worry, I kept the proper six-foot distance. Also today, I found out that school will be canceled for the rest of the year. Even though I'm a junior, I'm not going to be here next year (I'm moving). So this year was supposed to be my last hurrah at McLean. Words can't express my disappointment. Thank you McLean for the best three and a half years of my life. Today's therapeutic coping mechanisms included: napping, starting a paint-by-numbers today, more Gilmore Girls (let me know why Rory isn't in love with Tristan, I'm still trying to figure it out), and I actually did some Spanish work today! Surprising, I know.
Am I sane? Barely. Am I sad? I think you know the answer to this question.
Overall rating of today: 4.3/10
Day 10/ March 22nd- A definite improvement to Day 3's Sunday, but I'm majorly disappointed that I can't see the cherry blossoms at the Tidal Basin, my absolute favorite springtime activity. Because roads near the Tidal Basins were closed, and there were a lot of people at the blossoms on Saturday, our family decided not to go for our own health and public safety. Here are some pictures that I took at the cherry blossoms from past years so I can wallow in my sadness.
Am I sane? Sorta.



Day 9/ March 21st- Today, the statement "the more the merrier" was discovered, by yours truly, to be 100% factual. With my college siblings finally home today, there is little isolation to be had in our house. I took the day off from my extremely rigorous, strenuous school schedule today and instead hung out with my family. Later in the evening, my extended family held our first weekly "corona talent show" over Zoom call, with real cash prizes included. Despite the devolvement into sort-of chaos, it was definitely a merry time.
Best moments of today:
Nap #1
Nap #2
Nap #3
Nap #4
Overall rating: 8.8/10
Am I sane? For sure.
Day 8/ March 20th- Not much to say. When my mom and I went for a jog it was already balmy spring morning, with the blossoms out, sun out, and birds out. It was relatively easy for my mom to outpace me on our first run together in a long time. It was relatively easy to procrastinate nongraded, optional homework. It was also relatively easy to entertain myself with Club Penguin for hours, even though my friend was the one playing and I was just watching them play through FaceTime. Last but not least, it was relatively easy to feel down on the eighth day of social isolation.
Overall rating: 5/10
Am I sane? Partially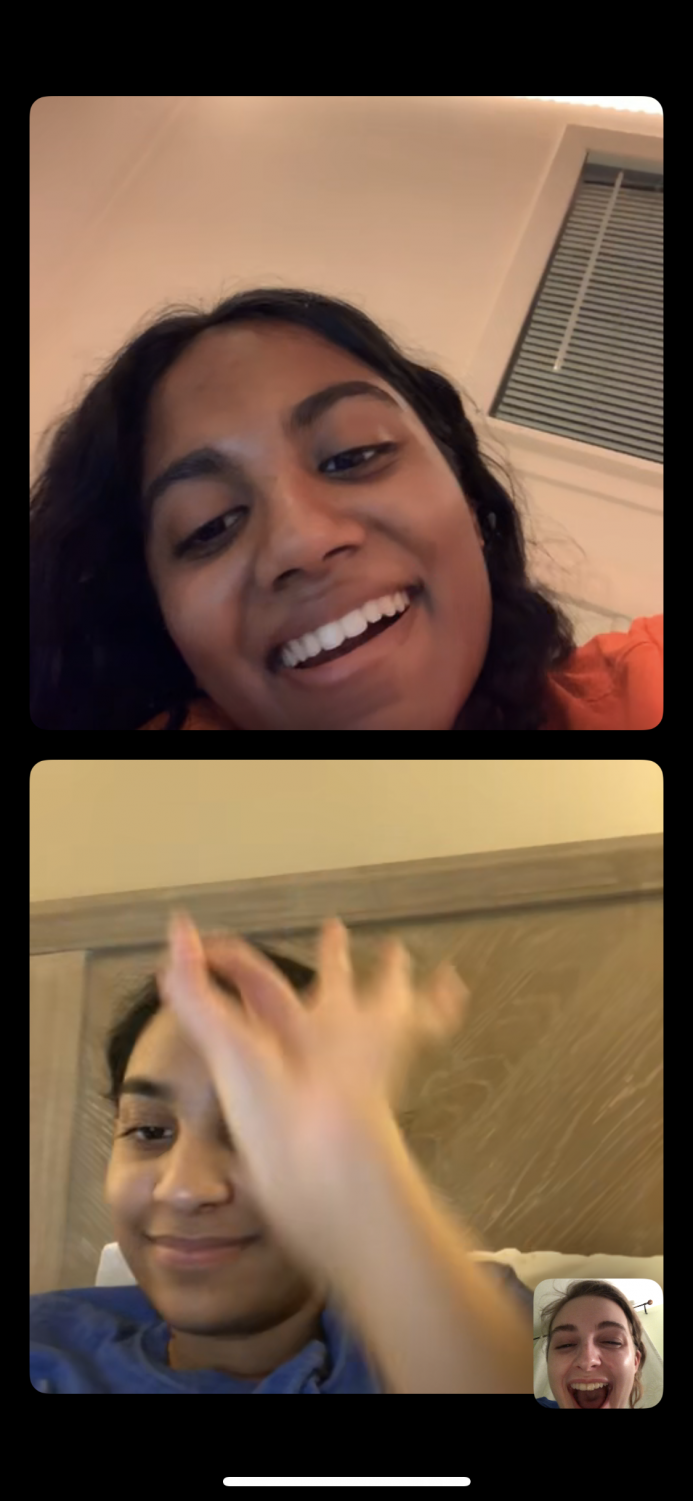 Day 7/ March 19th- 8:30 wakeup came easy today. Chocolate Chex for breakfast. I took a nice, long shower to fix the whole greasy-hair situation and took my time with my appearance. One hour-long Zoom call for journalism left me sufficiently entertained for the morning. Ham fried rice for lunch. In the afternoon I did some homework and went for a walk. The fresh air, sunshine, and perfect temperatures lightened my mood–even though I did have to keep switching which side of the street I was walking on to avoid the old couples also taking a stroll. I had my first Zoom call with some of my church friends to meet for a mini scripture lesson. It was nice to see their faces again and laugh together. 
Deep thoughts: It still feels like a weird pseudo-reality I'm living in right now. The world feels like it's stopped. Did I ever even go to school? 
Hidden treasures of the day: Zoom calls (who knew they could be so fun?) and Gilmore Girls
Last watched Gilmore Girls episode: Season 1 Episode 10
Quarantine goal: finish all seven seasons of Gilmore Girls
Overall rating: 7/10
Am I sane? Surprisingly, yes.

Day 6/ March 18th- There are a lot of ways to procrastinate besides checking Instagram. There are a lot of ways to get annoyed by a simple glance or word. There are a lot of ways to finish this sentence in a clever way but I can't think of anything.
An interesting fact about me: I have a constant craving to write, but I usually have very low levels of motivation to do so.
Am I sane? Eh.
Day 5/ March 17th- I wore green today!!! But on a sadder note: everything is canceled. I'm a Cappies Critic, which means I get to go see high school plays and musicals and then write reviews about them. Springtime is a very busy time for Cappies, since lots of schools put on productions, and so my weekends get pretty full through March, April, and the beginning of May. At the end of the Cappies season, we put on a huge gala, held in the Kennedy Center, where awards are given out just like the Tonys. We even dress up in tuxes and formal dresses! But it's all canceled now–the rest of the shows and the gala. I don't even feel that disappointed about it yet, just empty. I'm sure it'll hit me sometime.
Am I sane? Sure.
Emptiness level: 9.1/10
Day 4/ March 16th- I've discovered the importance of routine. I still don't have it completely figured out yet, but here are a few routine things keeping me sane: waking up at 8:30 every day, eating lunch and dinner with my family every day, face-timing the same two friends at bedtime every day to continue reading a cringe Wattpad story (the latest read is called Best Friends with the Player and I 10/10 recommend it). 
Am I sane? Also yes.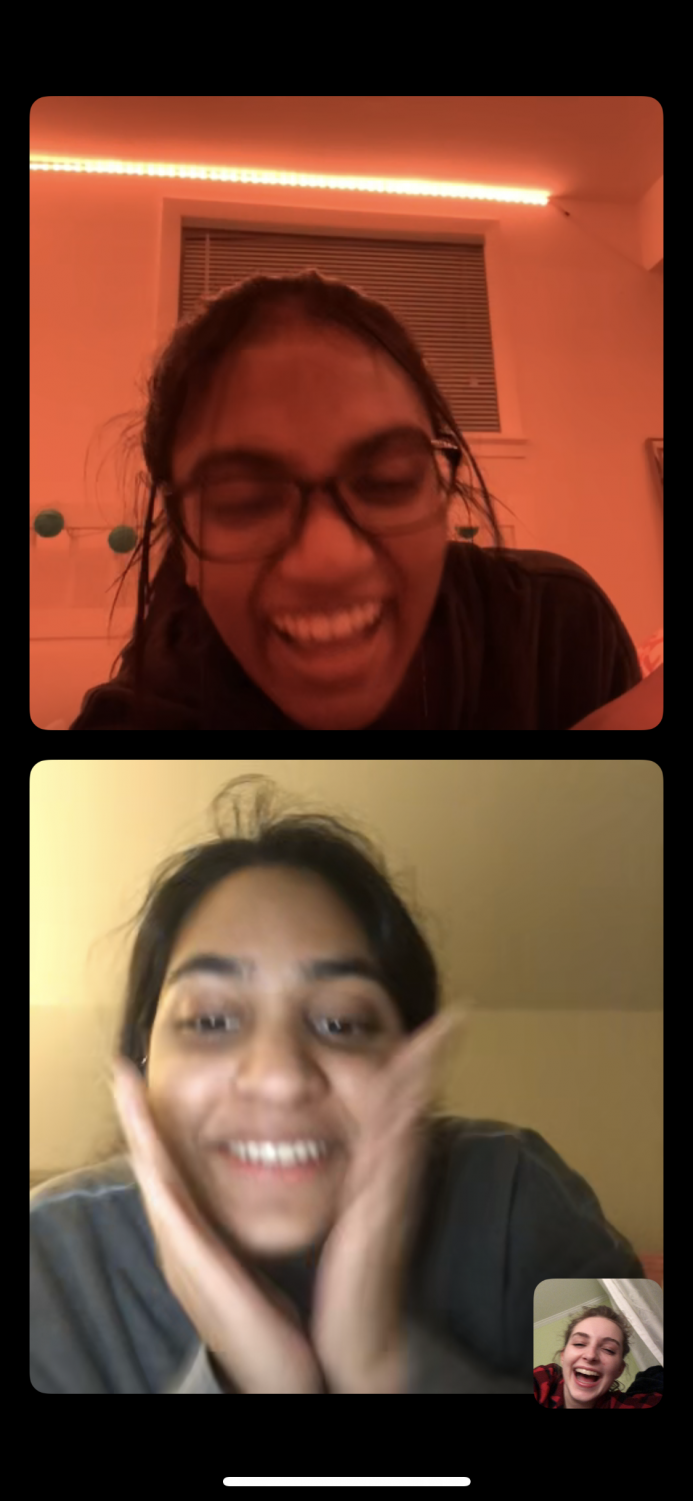 Day 3/ March 15th- We talked to my grandparents today–I'm worried about them. With my church meetings canceled, I'm left slightly bored and unmotivated. Instead of treating my Sunday as a break from everything else to focus on religious and spiritual matters, it begins to get dragged into the monotony that is social isolation.
Am I sane? Still yes, but less.
Day 2/March 14th- Actually went on a run for the first time in a long time, with the same friends as shown below. That was the last time we've seen each other since 🙁
Am I sane? Yes.
Day 1/ March 13th- A good day. I spent time with two of my close friends outside on a walk and on a little picnic at a field near my house. It was sunny outside, and a remarkably amiable day, especially for being Friday the 13th.
Am I sane? Very much so.

Introduction-
I've always been into journaling, documenting, diary-ing, etc. etc. but up until now, I was not personally motivated to actually post about my experience after our journalism teacher prompted us to. I got a spark of inspiration, let's call it. Or maybe just a deep loathing of my optional schoolwork to the point where I'll do almost anything productive to get out of it.