Marina's life as a full-time babysitter
Wednesday, May 20
I'M BACK! AP exams are finally over! Previously I had been waking up at 11 o'clock every day, but on May 7th is when my official AP prep time started. A big shout out to my friend and study buddy Stella for calling me at 7:30 to wake me up every day for two weeks! I can't believe that for two weeks I was the first in my family to wake up each morning, almost four hours before my sister and my mom get up. I've decided to keep up with this healthy daily routine, and I'll see how well I could keep it up.
Okay I guess I have to talk about my sister since this whole blog is basically about my life as a babysitter. For two weeks she's been taking 2-hour walks at 2 p.m. because of my AP test. Yesterday because of the windy weather, she and my mom stayed home. At 2:45 right when I was finishing my AP Psych test, she walked right into my room to get her Rubik's cube. I was so mad. But thankfully today's weather was nice so she was out the whole time during my Lang exam.
Today my sister also got the news that she got in a competitive dance team that she auditioned for two weeks ago. She stared at the email for almost 10 minutes, cannot believe that she was actually admitted. Honestly we were all pretty surprised.
In Chinese the numbers 5, 2, and 0 combined sounds just like "I love you" in Chinese, so my sister has been saying that it's her lucky day.
Tuesday, April 14
We got the good news about grading yesterday that fourth quarter could be used to boost half a letter grade!! And today is the first day of online learning. It doesn't really make too much of a difference since my BC and Chemistry classes seemed to cut down on our daily work (following the FCPS guideline, but not really sure until Thursday because I have those classes on silver days). In other classes there's only one or two weekly assignments so it's not too bad. 
I've been watching the cherry blossom every day for almost a week now, since our neighborhood has a beautiful cherry blossom lane. That's the to-go destination on my walk with my little sister every day after dinner.
Friday, April 3
Wow. How is the last time I've written for my blog almost a week ago?! But today my sister did four-finger knitting and gave me this headband. It's actually not bad. She finally got on board with Zoom today when their class did a "family meeting." I couldn't help but to laugh upon seeing thirty little third-graders in their pajamas and talking in the video conference about their dogs and cats and toys.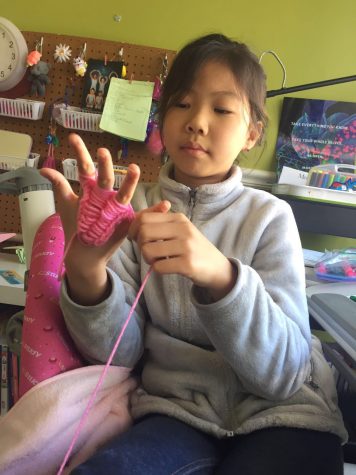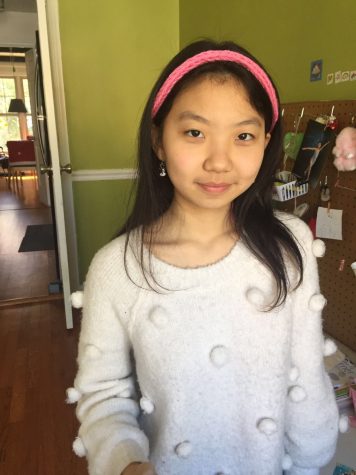 Today during our class check-in meeting for the COVID-19 issue, we realized that we have to finish our entire magazine in four days if we were to enter in a contest. Considering that only four or five articles started the sign-off process, I'm a little worried.
Today my mom finally made me clean up my room. We found papers as far back as my freshman year, and the all the papers and worksheet literally filled the entire recycling box. And that's only half.
Saturday, March 28
Don't really remember what I've done since the last blog, but definitely not doing work. Days are passing by so fast that I don't even know what I did this morning.
Yesterday my middle school friend who I haven't spoken to in one and a half years suddenly contacted me, and as we were chatting today, I was reminded of how immature I was back in 7th grade. Our conversation went from closing schools to losing weight and then strangely to movies and then my embarrassing moments from 4 years ago. Apparently I was easily frightened, according to that friend who has told horror stories to us.
Also yesterday I found out that fourth quarter isn't going to be counted in our final grade and all of our online-learning would be optional. I was devastated, but I feel that some teachers might have ways to give bonus credits. I need to calm down.
I keep forgetting to add a features image but I haven't taken a picture since the break started.
Wednesday, March 25
Today I asked my mom to watch me while I was doing homework just to keep me on task… and my sister saw what I wrote yesterday. Apparently she's happy that she's getting famous on The Highlander website.
For two weeks I had set my alarm clock at 8:30 am each morning, but I had never waken up before 10. So, starting tomorrow, I promise and promise that I will be more productive!!! And I gotta go to bed early now. Bye.
Tuesday, March 24
Yesterday Gov. Northam announced that all schools will be closed for the rest of the school year. I didn't know how to react at all. Junior year has been the most painful year, but I was enjoying almost every bit of it. Previously, I've talked with Rebeka about which class was affected the most by the COVID-19, and I was so strong on the fact that all juniors' futures are going to be affected anywhere from standardized testing, grades to college admissions. But now I really have to say, sorry seniors.
Unlike many others' coronacaton, my break has been filled with work from the past week. In chemistry and math, we have a daily assignment calendar to follow, but keeping up motivation at home is so hard. For some reason, my 8-year-old little sister is doing better than me. She created a schedule for herself to complete the 6 hours' worth of daily work assigned by her responsible teachers. She did the work so effectively each day that she still has enough time allocated to annoy me.
No need an alarm clock to wake me up. Everyday at 10 am, no matter rain or shine, my sister would jump onto my bed, rip off my blanket, and flip open my eyelids. Sweet, right? I really need a lock on my door.
Three days ago I set my phone on "kids mode" to discourage me from looking at it. I asked my mom to type in a random password that would limit my screen time to two hours a day.
I don't recommend it.